Maritime Transportation and Chemical Oceanography
This material summarizes the fundamentals of Chemical Oceanography. It is intended for beginner undergraduate students enrolled in Nautical or Maritime Engineering Studies, for professionals involved in long life learning processes, and also for a general audience interested in how Science affect all fields of daily activity. A number of specialized concepts are introduced in the text in a simple manner, most of which can be easily expanded through more specialized conventional books (some of wh
Author(s): J. Arturo Santaballa,Moisés Canle

"Mexico's 2006 Presidential Elections and the Fragility of Democratic Institutions"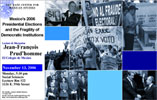 A lecture by François Prud'homme, El Colegio de Mexico. Sponsored by the Katz Center for Mexican Studies.

Author(s): The Center for International Studies at the Univer

Espoir et Histoire


Les mouvements de révolte qui secouent actuellement notre société sont symptomatiques d'une crise du jeu démocratique. La représentation politique ne fonctionne pas comme elle le devrait puisqu'il est désormais nécessaire de s'exprimer ailleurs, hors du cadre ordinaire de représentation.

Pourquoi assistons-nous à une crise aussi éloquente et visible? Est-il possible d'envisager le devenir d'une humanité en difficulté en terme d'espoir?

Author(s): No creator set