"U.S.-Cuban Academic Relations Part II: Roundtable Discussion on U.S.-Cuban Academic Exchange"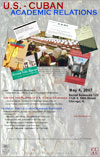 Introduction: Alan Kolata, University of Chicago. Discussants: Stephan Palmie, University of Chicago; Agnes Lugo-Ortiz, University of Chicago; Shannon Dawdy, University of Chicago; Laurie Frederik, University of Chicago; Paul Ryer, University of Chicago.
U.S. and Cuban scholars involved in academic, scientific, and cultural research face
Author(s): The Center for International Studies at the Univer

The Function of Parties in America
A political party is a group of people who try to influence policy agendas and whose ultimate goal is to run the government by getting their favorite candidates elected. Two political parties, the Democratic Party and the Republican Party, have long dominated American government and politics. These and other parties are typically differentiated by their beliefs, principles, and policy agenda. In other words, they can be distinguished by their political ideologies. (Video is narrated with slides
Author(s): No creator set

Thematic Poetry Videos
Overview: Youth literacy can be promoted by leveraging youth culture, such as rap/music videos. By merging sound and visual imagery with text, a poetry writing task can be transformed into a multi-media video assignment. English teachers with access to a computer lab equipped with video editing software (e.g. i-Movie) can carry this out with their classes. Alternatively, English and computer lab teachers can collaborate to have their students produce thematic poetry videos as the culminating act
Author(s): No creator set

A quiz about Britain
Questions in this test are drawn from British Citizenship testing. However they form a quiz about Britain which is of general interest.
Author(s): Wayne Parisi

Genetically Modified Foods
This lesson is designed to expose students to the various issues surrounding GMO foods and to help them understand the complexity of the issues surrounding the biotechnology movement. Students will read aloud from two NewsHour pieces, both of which involve a variety of perspectives surrounding the GMO issue. Additionally, students will try to identify GMO foods that they have consumed and discuss the "to label or not to label" debate. At home students will be surveying family and/or peers and at
Author(s): No creator set

Lesson 319: Politics vocab
It's election time in Brazil and BPP will start a series of lessons about Brazil's politics history and how elections work here. As a warm up this lesson will serve as a vocabulary reference for the...

Check out our website, brazilianportuguesepod.com and find out more how we can help you improving your Portuguese!