Ville de Sélestat: Bibliothèque Humaniste
The Bibliothèque Humaniste (Humanist Library), at Sélestat in Alsace, France, is one of the great libraries of Europe. Their website provides bibliographic information about the Sélestat treasures, including: a special exhibition of bindings; ancient collections of the religious communities of its region, and 15th-16th century collections from the period during which the city was a leading centre of the Humanism movement in Europe. Most well-known is the collection of Beatus Rhenanus; and it
Author(s): No creator set

Brand Aid? Development finance and African agriculture (Inaugural Lecture Series)
In a global system that seems to be remorselessly concentrating capital into fewer hands, this lecture will examine efforts to move money the other way in order to promote food security, with particular reference to Ethiopia. In this lecture, Professor James Copestake will highlight the growing business-orientation of aid and explore scope for being more transparent about its impact.

Author(s): No creator set

"Petroleum Technology Presentation"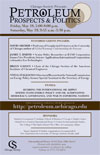 A talk by Brian C. Gahan, Energy Consultant; Chair of the Chicago Section of the American Institute of Chemical Engineers; former Senior Scientist and Manager of E&P Technology Development at the Gas Technology Institute. Session 4 of the conference "Petroleum: Prospects and Politics." Sponsored by the Chicago Society. Co-sponsored by the Student Government of the Universi
Author(s): The Center for International Studies at the Univer

Preposition Song Introducing Prepositions to Young Students
Cute video teaching prepositions-next to, in on, under, behind, in front of, between. Catchy tune is sung while matching pictures and words are shown on screen. Many of the phrases used in song are also rhyming words. The song is repeated several times with different prepositions (3:25).
Author(s): No creator set

China - Economic Miracle or Economic Timebomb?
The growth of China in recent years has been described as an economic miracle with Western companies and governments rushing to build partnerships with the new power in the East. The opening up of the Chinese market and the expansion of industry, technology and production within the country has, however, had a profound effect on the people of China, its political leaders and the rest of the world. This impact can be seen in the growing inequalities within China, the loss of jobs in the west a
Author(s): No creator set