Constructing a Median
A median is a line segment from the vertex to the midpoint of the opposite side in a triangle. In every type of triangle, the median will be contained within the polygon, unlike altitudes which can lie outside the triangle. This video describes how to construct a median by first finding the midpoint of the side opposite the desired vertex and then using a straight edge to connect the midpoint and the vertex. (1:53)
Author(s): No creator set

"U.S.-Cuban Academic Relations Part I: The Politics of U.S.-Cuban Exchanges"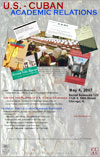 Wayne Smith, Center for International Policy and Louis Pérez, University of North Carolina-Chapel Hill.
U.S. and Cuban scholars involved in academic, scientific, and cultural research face significant difficulties in maintaining open and thorough dialogue with each other due to restrictions governing travel between the two countries. Such
Author(s): The Center for International Studies at the Univer

Checklist - Work Placement
This is a resource released as part of the E-Portfolio Toolkit based on experience of developing the "Year Abroad E-Portfolio", undertaken by the School of Languages at Leeds Metropolitan University.
Author(s): Mara Fuertes-Gutiérrez,Juan Muñoz López,Janet P