The Threat of Animal Species Extinction
This short but informative video describes the startling risk for extinction that many species are facing, and how many of these species are at risk because of human activity. Video is set to music while information is written on the screen. Run time 0:51.

Author(s): No creator set

"Petroleum Technology Presentation"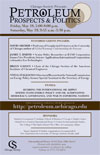 A talk by Brian C. Gahan, Energy Consultant; Chair of the Chicago Section of the American Institute of Chemical Engineers; former Senior Scientist and Manager of E&P Technology Development at the Gas Technology Institute. Session 4 of the conference "Petroleum: Prospects and Politics." Sponsored by the Chicago Society. Co-sponsored by the Student Government of the Universi
Author(s): The Center for International Studies at the Univer

ScienceCasts: Did Earth Have Two Moons?
Did our planet once have two moons? Some researchers say so. Moreover, the missing satellite might still be up there--splattered across the far side of the Moon. NASA's GRAIL mission could help confirm or refute the "two moon" hypothesis. (03:00)
Author(s): No creator set