Inside Outlook: Mass Incarceration
There are over 2.4 million people sitting in American prisons right now. Rates of incarceration in this country have increased 400% over the past 30 years. Between 1990 and 2009 the number of Americans housed in private prisons has risen 1600%. This has led many to declare that we are living in an age of mass incarceration driven by a justice system that is over-criminalizing the citizenry, and in particular, racial minorities, low income individuals and youth. What is driving this explosive g
Author(s): No creator set

"United States Government Perspective Global Energy Security"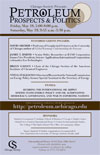 Introduction by Robert Zimmer, President, University of Chicago; Keynote Address by The Honorable Alan S. Hegburg, U.S. Deputy Assistant Secretary of Energy for International Energy Policy. Session 1 of the conference "Petroleum: Prospects and Politics." Sponsored by the Chicago Society. Co-sponsored by the Student Government of the University of Chicago, The Graduate Scho
Author(s): The Center for International Studies at the Univer

Dividing Polynomials
This video clips explains how to use long division to divide a polynomial by another polynomial, in this case a binomial of lower degree. When dividing polynomials, we set up the problem the same way as any long division problem, but are careful of terms with zero coefficients. (2:02)
Author(s): No creator set