"United States Government Perspective Global Energy Security"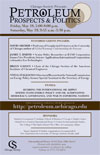 Introduction by Robert Zimmer, President, University of Chicago; Keynote Address by The Honorable Alan S. Hegburg, U.S. Deputy Assistant Secretary of Energy for International Energy Policy. Session 1 of the conference "Petroleum: Prospects and Politics." Sponsored by the Chicago Society. Co-sponsored by the Student Government of the University of Chicago, The Graduate Scho
Author(s): The Center for International Studies at the Univer

Opening Remarks (video)

Dain Borges, Director, Center for Latin American Studies Mark Hansen, Dean, Social Science Division Ambassador João Almino, Consul General of Brazil in Chicago Marina Silva, Senator, Green Party (from Brazil via video)

Author(s): The Center for International Studies at the Univer

Twenty Years of Inflation Targeting [Audio]
Speaker(s): Professor Sir Mervyn King | Since 2008, we have experienced the worst financial crisis and recession since the 1930's. What challenges does this pose to the intellectual foundations of monetary policy? Do we need a new approach? Mervyn King is the Governor of the Bank of England. Before joining the Bank he was Professor of Economics at the LSE, and a founder of the Financial Markets Group.
Author(s): No creator set

Seppuku
A clip in which a medical examiner describes the art of Seppuku: a Japanese ritual suicide practiced by samurai.
Author(s): No creator set

Sharia Law - the heart of the debate
Professor Hugh Goddard
Why does it seem impossible to have a rational public debate on the relationship between the West and the Islamic world?
Professor Hugh Goddard answers this question as he reflects on 24 years as Professor of Christian Muslim Relations at The University of Nottingham.
For more information please visit:

Author(s): No creator set

Battle of Fallen Timbers and the Treaty of Greenville
This video discusses some of the key facts of the Battle of Fallen Timbers and some of the concessions made in the treaty of Greenville. This is a good video review, but students need to have a list of names of those involved and a map of the battle site. This video moves rapidly, but adds insights what the treaty was about and the effect had on the Indians. A great debate starter for does the means justify the ends.
Author(s): No creator set

Journées Emois Paris 2014: Variations temporelles de la mortalité chirurgicale dans les ...


Titre : Journées Emois Paris 2014: Variations temporelles de la mortalité chirurgicale dans les hôpitaux français


Intervenant: Antoine DUCLOS, Pôle d'information médicale aux Hospices civils de Lyon

D1 : Qualité des pratiques et des soins : évaluation, indicateurs, pertinence des actes et des stratégies II
Modérateurs : M BREMOND, P OBERLIN
D-1-1 DUCLOS ...


Author(s): No creator set