Winter Lecture Series - 2009: Diet detective: What's on the menu for our coastal marine animals?
Dr McLeod – the 2008 McDiarmid Young Scientist of the year – has a fascination with the slimy and disgusting that has seen her study hagfish in Fiordland and metre-long worms in Antarctica. She looks at the importance of rain forest and sea ice for the diets of these creatures. What if more forests are cut down, or if the sea ice disappears? Armed with these answers, it is becoming possible to predict the challenges ahead for these coastal creatures, and for coastal ecosystems in general. 20
Author(s): No creator set

2.8 Polar form

You have seen that the complex number x + iy corresponds to the point (x, y) in the complex plane. This correspondence enables us to give an alternative description of complex numbers, using so-called polar form. This form is particularly useful when we discuss properties related to multiplication and division of complex numbers.
Author(s): The Open University

Entorns Personals d'Aprenentatge (PLE)
Eugeni Garcia Rierola
Entorns Personals d'Aprenentatge (PLE)

Some Rights Reserved
Author(s): No creator set

7.2 What people do with the money?


Diane and John didn't get any money.

Enid saved her 'lads' money for them, and bought them clothes and other things from what she saved. She spent her ICA on herself, though it didn't sound as if she treated herself to many luxuries.

Sarah's payments went towards the allowances for her volunteer helpers at university. They helped her with making meals, mobility around the campus and getting into town. Sometimes she needed help with personal care, such as washing her hair.

<
Author(s): The Open University

"Militarization of U.S. Foreign Relations with Latin America: Prospects for Change" (video)

A panel discussion with: Lisa Haugaard, Executive Director of the Latin America Working Group; Joy Olson, Executive Director of the Washington Office on Latin America; Adam Isacson, Senior Associate at the Center for International Policy. From the Latin American Briefing Series. Co-sponsored by the Center for Latin American Studies and the Internati
Author(s): The Center for International Studies at the Univer

1.4.3 R is for Relevance


Relevance is an important factor to consider when you are evaluating information. It isn't so much a property of the information itself but of the relationship it has with your question or your 'information need'. For example,if you are writing an essay about the geography of Chile, a book or website about Chilean political history would not be relevant. So there are a number of ways in which a piece of information may not be relevant to your query:


Author(s): The Open University

4.18.1 Data mining

Data mining refers to techniques for analysing databases or information systems to try to identify hidden but significant patterns that are not possible to detect by standard querying of the database.
Moxon defines data mining as follows:
Data mining is a set of techniques used in an automated approach to exhaustively explore and bring to the surface complex relationships in very large datasets … most likely im
Author(s): The Open University

"Securing the International Oil Supply"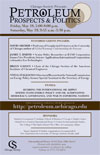 A panel featuring David Goldwyn, President of Goldwyn International Strategies LLC; Senior Fellow in the Energy Program at the Center for Strategic and International Studies; former Assistant Secretary of Energy for International Affairs; Scott Nauman, Manager of Economics and Energy in Corporate Planning for ExxonMobil Corporation; and Michael Klare, Five College Professor
Author(s): The Center for International Studies at the Univer

2.1 Introduction


In this section, we explore how experiences of being an older person in the nineteenth century were constituted through the operation of the 1834 New Poor Law Act and the processes of industrial change that ran parallel to it. We examine the way this constructed the lives of older people as 'other' to the emergent 'normal' (adult, relatively youthful, male paid worker) and trace its legacy to reveal points of continuity and change.


Author(s): The Open University

Conclusion


This free course provided an introduction to studying sociology. It took you through a series of exercises designed to develop your approach to study and learning at a distance and helped to improve your confidence as an independent learner.


Author(s): The Open University

Collection #10113
UNSPECIFIED - UNSPECIFIED Keywords:UNSPECIFIED
Author(s): No creator set

Houthis in Yemen, "will fail, we will make sure of this"- Saudi ambassador to U.S.
Saudi Arabia says it will make sure Houthis fail in Yemen as Iran says it will use all its influence to broker a peace deal and end the Saudi airstrikes. Deborah Lutterbeck reports. Subscribe: http://smarturl.it/reuterssubscribe More updates and breaking news: http://smarturl.it/BreakingNews Reuters tells the world's stories like no one else. As the largest international multimedia news provider, Reuters provides coverage around the globe and across topics including business, financial, nation
Author(s): No creator set