Open Nottingham Seminar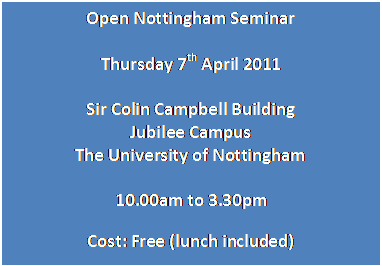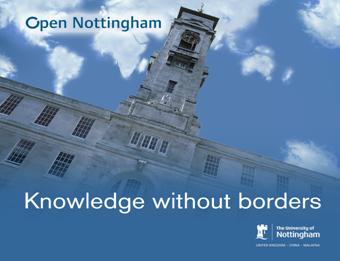 We are once again hosting a national event to examine Open Educational Resources (OER) and the influence they are having on teaching and learning. This national event follows on from the success of our Open Learning Conference in Nov 2009. It will showcase the work that the University is doing in the area of Open Educational Resources (OER) and will provide an opportunity to hear from experts from the wider OER community. It will also provide an opportunity to discuss the benefits, barriers and strategic drivers behind embracing an open access for teaching agenda.
Open Nottingham is an established part of the University's Five Year Strategy, supporting a number of the institution's published objectives, with benefits such as efficiency savings, promotional opportunities and an enhanced student experience.
I hope you will be able to attend on the 7th April. Places will be allocated on a first come, first registered basis.
To reserve a place you can complete the booking form and email it to steven.stapleton@nottingham.ac.uk. Steve will also be able to answer any questions you may have about the event.
A detailed programme of speakers will be released shortly, as will the event's website.
For those new to the idea of Open Educational Resources, more information is available about OER, Open Nottingham and the UKOER movement.
Seminar Venue: Sir Colin Campbell Building at the Jubilee Campus