"U.S.-Cuban Academic Relations Part I: The Politics of U.S.-Cuban Exchanges"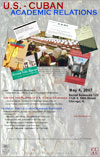 Wayne Smith, Center for International Policy and Louis Pérez, University of North Carolina-Chapel Hill.
U.S. and Cuban scholars involved in academic, scientific, and cultural research face significant difficulties in maintaining open and thorough dialogue with each other due to restrictions governing travel between the two countries. Such
Author(s): The Center for International Studies at the Univer

1 to 20 Number Elimination
This is a 70's animated short from Sesame Street. Watch for a googly-eyed cameo and an incorrectly-spelled word.
Author(s): No creator set

8 Technical glossary


This glossary is intended to provide a basic explanation of how a number of common mathematical terms are used. Definitions can be very slippery and confusing and at worst can replace one difficult term with a large number of other puzzling concepts. Therefore, where an easy definition is available it is provided here, where this has not been possible an example is used. If you require more detailed or complete definitions, you should refer to one of the very good mathematical dictionaries th


Author(s): The Open University

1.2.1 Try some yourself

Activity 1
A friend is painting the inside walls of a garage. So far she has used a 2 litre tin of emulsion paint and covered an area of 9 m2. She needs some more paint. How much more would you advise her to
Author(s): The Open University

1 Developing information literacy skills


This Key Skill Assessment Course offers an opportunity for you to select and prepare work that demonstrates your key skills in the area of information literacy.

This unit provides you with advice and information on how to go about presenting your key skills work as a portfolio.

In presenting work that demonstrates your key skills you are taking the initiative to show that you can develop and improve a particular set of skills, and are able to use your skills more generally in you


Author(s): The Open University

Keep on learning

Study another free course
There are more than 800 courses on OpenLearn for you to choose from on
Author(s): The Open University

Will the New Light on Wall Street's 'Dark Pools' Bring Stronger Regulation?
The latest regulatory actions on two investment banks over lapses in high-frequency trading reveal that settlements hinder the development of laws, say experts.

Author(s): No creator set