References

Antidote (2005) www.antidote.org.uk [accessed 14 February 2008].
Ashley, J. (2005) 'It is adults who have made teenagers' lives a misery', Guardian, 3 February, p. 24.
Barton, L. (2005) 'S'alright … Being 15', Guardian G2, 16 March, p. 2.
Beck, U. (1992) Risk Society: Towards a New Modernity, London, Sa
Author(s): The Open University

"Baltimore Drowning: A Slavic Microhistory of Global Proportions"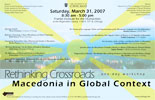 This talk by Keith Brown of Brown University was the keynote address of "Rethinking Crossroads: Macedonia in Global Context." The conference assembled both young and established scholars whose social-scientifically and humanistically informed work speaks to the contemporary realities of the Republic of Macedonia as they continue to be reshaped by actors and p
Author(s): The Center for International Studies at the Univer

Learning outcomes

On completion of this unit, you should be able to:
understand how to start SPSS;

define a variety of statistical variables;

enter basic data into SPSS;

carry out a statistical analysis that can test hypotheses.

Author(s): The Open University