Utilizing Effective Instructional Technologies
This course provides an overview of instructional technologies that may be integrated into teaching educational content in a digital format. Students will create an Online Course Shell to develop their skills in building learning materials to be integrated for online delivery. Students will learn how Web 2.0 technologies are impacting education. Students will analyze some innovative ways to integrate Web 2.0 technologies for education. A description of the paradox of utilizing technology for edu
Author(s): No creator set

Introduction


Historians on both sides of the Atlantic have argued that the empire was not an issue of popular interest in the late nineteenth-century Britain and the United States. This course examines some of the evidence available to assess the truth of this claim. More broadly, the course raises questions related to evidence: is it possible to discover what 'ordinary' people thought about expansionism?

'I couldn't give a damn'; 'I don't know anything about politics'; 'Why don't they


Author(s): The Open University

Learn French - Les Professions, Part 5
The instructor recites various careers in French. This video has words spoken by a native speaker accompanied by appropriate images. It is well-produced with clear sound.
Author(s): No creator set

Keep on learning

Study another free course
There are more than 800 courses on OpenLearn for you to choose from on a range of subjects. 
Find out more
Author(s): The Open University

3.2 Publishing


One of the strongest impulses in the Enlightenment was to codify knowledge and publish it widely. The most notable example of this impulse is the French Encyclopedic, 'a rational dictionary of the sciences, art and trades', published chiefly in Paris in the 1750s and 1760s, under the indomitable editorship of Denis Diderot. The seventeen volumes of text and eleven volumes of plates were intended to summarise and clearly present everything that was worth knowing, from the construction


Author(s): The Open University

Displacement Week: "The Effects of Gentrification on Chicago's Communities" (video)
A panel discussion with Jamie Kalven: Writer, Invisible Institute; Tom Walsh: Director of Advocacy and Public Policy, Jewish Council on Urban Affiars; Victoria Romero: President of the Board, Pilsen Alliance. Moderated by Virginia Parks: Assistant Professor, School of Social Service Administration, University of Chicago.

Author(s): The Center for International Studies at the Univer

4.1 Creative Commons licensing


When you view the video you should look at the section on why you should choose Creative Commons, which aims to illustrate the benefits of applying a Creative Commons licence to some of your institution's works and puts the easy-to-understand terms and symbols in an international context.

Creative Commons is an organisation that has created and made available a suite of CC non-exclusive licences for the licensing of copyright works without payment to the general public.Creative Commo


Author(s): The Open University

2.2 Activity 1: Bob Ballantyne

electrician – Piper survivor – community education worker
© Owen Logan
©
© Owen Logan
<
Author(s): The Open University
21H.223 War & American Society (MIT)
Writing in the wake of the Civil War, poet Walt Whitman insisted that "the real war will never get in the books." Throughout American history, the experience of war has fundamentally shaped the ways that Americans think about themselves, their fellow Americans, and the meanings of national citizenship. War has also posed challenges of representation, both for those who fought as well as those who did not. This subject examines how Americans have told the stories of modern war in history, literat
Author(s): Capozzola, Christopher

Burma votes 2010 - Episode 3
Former Australian Ambassador to Burma Trevor Wilson is the guest while Malaysian opposition leader Anwar Ibrahim gives his reaction to the release of Aung San Suu Kyi in the third Burma votes 2010 vodcast from The Australian National University.Trevor Wilson, now a Visiting Fellow in the Department of Political and Social Change in the ANU College of Asia and the Pacific, was in Burma as the polls were taking place. He discusses the atmosphere in the country, the reaction to the release of Aung
Author(s): Creator not set

Tsunamis 101
This video shows what a tsunami looks like. Find out how a tsunami is born and how it destroys. This video shows where they hit the most, Japan and why they occur there the most. Run time 03:27.
Author(s): No creator set

"Securing the International Oil Supply"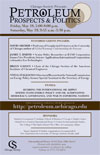 A panel featuring David Goldwyn, President of Goldwyn International Strategies LLC; Senior Fellow in the Energy Program at the Center for Strategic and International Studies; former Assistant Secretary of Energy for International Affairs; Scott Nauman, Manager of Economics and Energy in Corporate Planning for ExxonMobil Corporation; and Michael Klare, Five College Professor
Author(s): The Center for International Studies at the Univer

3.1 Introduction

Let us take up the question of the location of the war memorial. I am going to give you a list of places in which I would expect you to find your war memorial:
| | |
| --- | --- |
| local parish church | local parish churchyard |
| centre of your town or village | village green |
| local park or garden | school or college |