PGE Distinguished Lecture: "Is Development Sustainable? Not Even Close" (video)

A talk by Robert Repetto. Is development sustainable? Certainly not the way the world is now going about it. Major trends are heading straight toward ecological and human disasters and if they are not changed and changed soon, development efforts will fail for billions of people, comprising mainly the world?s most vulnerable populations. Climate change, water
Author(s): The Center for International Studies at the Univer

"The Second World: Empires and Influence in the New Global Order" (video)

A talk by Parag Khanna, Director of the Global Governance Initiative of the American Strategy Program at the New America Foundation. In "The Second World: Empires and Influence in the New Global Order", Parag Khanna examines the intersection of geopolitics and globalization to argue that America's dominant moment has been suddenly replaced by a geopolitical marketplace wherein the European Union an
Author(s): The Center for International Studies at the Univer

4.1 Creative Commons licensing


When you view the video you should look at the section on why you should choose Creative Commons, which aims to illustrate the benefits of applying a Creative Commons licence to some of your institution's works and puts the easy-to-understand terms and symbols in an international context.

Creative Commons is an organisation that has created and made available a suite of CC non-exclusive licences for the licensing of copyright works without payment to the general public.Creative Commo


Author(s): The Open University

2.2 Activity 1: Bob Ballantyne

electrician – Piper survivor – community education worker
© Owen Logan
©
© Owen Logan
<
Author(s): The Open University
21H.223 War & American Society (MIT)
Writing in the wake of the Civil War, poet Walt Whitman insisted that "the real war will never get in the books." Throughout American history, the experience of war has fundamentally shaped the ways that Americans think about themselves, their fellow Americans, and the meanings of national citizenship. War has also posed challenges of representation, both for those who fought as well as those who did not. This subject examines how Americans have told the stories of modern war in history, literat
Author(s): Capozzola, Christopher

How Ben & Jerry's Got Bought Out Without Selling Out
Despite being bought out by Unilever in 2000, Ben & Jerry's has managed to keep intact the commitment to social justice that was baked into the firm by its founders.

Author(s): No creator set

Burma votes 2010 - Episode 3
Former Australian Ambassador to Burma Trevor Wilson is the guest while Malaysian opposition leader Anwar Ibrahim gives his reaction to the release of Aung San Suu Kyi in the third Burma votes 2010 vodcast from The Australian National University.Trevor Wilson, now a Visiting Fellow in the Department of Political and Social Change in the ANU College of Asia and the Pacific, was in Burma as the polls were taking place. He discusses the atmosphere in the country, the reaction to the release of Aung
Author(s): Creator not set

"Petroleum Technology Presentation"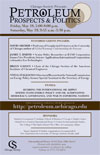 A talk by Brian C. Gahan, Energy Consultant; Chair of the Chicago Section of the American Institute of Chemical Engineers; former Senior Scientist and Manager of E&P Technology Development at the Gas Technology Institute. Session 4 of the conference "Petroleum: Prospects and Politics." Sponsored by the Chicago Society. Co-sponsored by the Student Government of the Universi
Author(s): The Center for International Studies at the Univer

3.1 Introduction

Let us take up the question of the location of the war memorial. I am going to give you a list of places in which I would expect you to find your war memorial:
| | |
| --- | --- |
| local parish church | local parish churchyard |
| centre of your town or village | village green |
| local park or garden | school or college |