Empty Chairs at Empty Tables from Les Miserables
This is a live performance of the 10th Anniversary Concert of Les Miserables. While the singers are in costume, this is not a stage production of the musical. The orchestra and singers are both on stage together with the orchestra behind the singers. This is a very interesting live concert production with occasional excerpts of footage from the stage production. The picture quality is good and the sound quality is excellent. The performance is sung in English with English captions for understand
Author(s): No creator set

A Body in Transition



00:01:28
© 2000–2016 The Metropolitan Museum of Art. All rights reserved.
Author(s): No creator set

Beginner - Arabic tattoo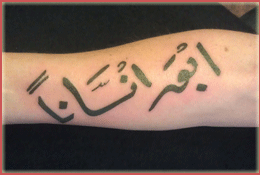 Many people choose Arabic words to be tattooed on their bodies. I remember seeing the Arabic word "Hadeed" tattooed on a muscular guy's bald head in the gym. Today we go through a real dialogue that happened when one of our users decided to get a tattoo.


Author(s): No creator set

{ Suresh 333} Nice sentences related to past tense
Master Your Vocabulary. Take a look at: Vocabulary List - Easy to study list with pictures and recordings for some words{ Suresh 333} Nice sentences related to past tense Personal […]
Why should I be an Episcopalian?
Presiding Bishop Katharine Jefferts Schori answers the question, "If I didn't go to church, what would you tell me to get me to visit an Episcopal Church?"
Author(s): No creator set

Today in History for March 24th
Highlights of Today in History: NATO launches airstrikes over Yugoslavia; Exxon Valdez oil spill in Alaska; Elvis Presley inducted into US Army; Cat on a Hot Tin Roof opens on Broadway. (01:36)

Author(s): No creator set

References

Bennett, A., Cook, P., Miller, J., and Moore, D. (1987) The Complete Beyond the Fringe, Methuen.
Berlin, I. (1969) Four Essays on Liberty, Oxford University Press.
Warburton, N. (1999) Arguments for Freedom, Open University (A211 course book).
Warburton, N. (2000) Thinking from A to Z, Routledge (second edit
Author(s): The Open University

Digital literacy: succeeding in a digital world
This free course, Digital literacy: succeeding in a digital world, will develop your confidence and skills for life online, whether study, work or everyday life. It explores a range of digital skills and practices, including digital identity, digital well-being, staying safe and legal, finding and using information and online tools, and dealing with information overload. The importance is emphasised throughout of developing a critical approach to life online, whether consuming or creating inform
Author(s): Creator not set

Obama's First Year
The JOURNAl assesses Obama's first year as President in the wake of Democrats' defeat in Massachusetts' special election for Senate with Princeton politics and African American studies professor Melissa Harris-lacewell and journalist Eric Alterman. And, faced with the increasing global demand for oil and the threat of climate change, experts say that America needs a new energy policy - but what are our options? Bill Moyers sits down with analysts Jean Johnson and Scott Bittle to discuss how we c
Author(s): No creator set

The week ahead: A time to unify
The presidential election in the Central African Republic, the 25th anniversary of the reopening of the Brandenburg Gate in Berlin, and Pope Francis's midnight mass address on Christmas eve

Author(s): The Economist

The Eruption of Mount St. Helens
In this 1:45 video the 1980 eruption of Mount St. Helens, in Washington state is explained and shown. It is an overview without information on the science involved.
Author(s): No creator set

Anshu explains "Jai Ho" the song from Slumdog Millionaire
Today we have Anshu come and explain the first few lines of the "Jai Ho" song from Slumdog Millionaire.  She has a class several Hindi classes.  (more information listed at the […]
President William McKinley
A four-minute summary of William McKinley's accomplishments and life history. This is a very good video to show the human side of a president.
Author(s): No creator set

Babbage: When AI meets reality
How can artificial intelligence leave the lab and get down to business? Kenneth Cukier explores an innovative method with Tractable founder Alexandre Dalyac. Also, a new way to measure ancient oxygen is changing our understanding of evolution, and we crunch the numbers to reveal the long-term risks of air pollution.

Author(s): The Economist

What Is the Zika Virus?
As many as 1.5 million Brazilians may have been infected with the mosquito-borne Zika virus and now the U.S. and other countries are also reporting news cases. But what is the Zika virus? And why does it pose a threat to pregnant women? Dipti Kapadia explains. Photo: Getty Images (02:04)

Author(s): No creator set