6.3 Describing use cases

To understand the work, you need a good idea of what each use case means. To get a feel for what this might entail, look again at Figure 3 (reproduced below) which shows a simple use case model for a hotel chain reservation system. Note that Figure 3 is not intended to be an exhaustive model of the hotel domain; the scope of the problem to be solved is confined to reservations and the processes of checking in and out.
Author(s): The Open University
Conclusion


This free course provided an introduction to studying Environment & Development. It took you through a series of exercises designed to develop your approach to study and learning at a distance, and helped to improve your confidence as an independent learner.


Author(s): The Open University

"U.S.-Cuban Academic Relations Part II: Roundtable Discussion on U.S.-Cuban Academic Exchange"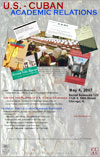 Introduction: Alan Kolata, University of Chicago. Discussants: Stephan Palmie, University of Chicago; Agnes Lugo-Ortiz, University of Chicago; Shannon Dawdy, University of Chicago; Laurie Frederik, University of Chicago; Paul Ryer, University of Chicago.
U.S. and Cuban scholars involved in academic, scientific, and cultural research face
Author(s): The Center for International Studies at the Univer

Who murdered MG Rover?
Recent research by Judge Business School's Dr Matthias Holweg and Professor Nick Oliver, based on interviews with former CEOs, top managers, government and trade union officials showed that the British car company MG Rover finally ceased production in 2005 because of historic management failings that had never been properly addressed.
Author(s): No creator set