Acknowledgements

The content acknowledged below is Proprietary (see terms and conditions) and is used under licence.
This extract is taken from D315: Crime, order and social control, produced by the BBC on behalf of the Open University.
© 2007 The Open University.

Author(s): The Open University

Keep on learning

Study another free course
There are more than 800 courses on OpenLearn for you to
Author(s): The Open University

"Baltimore Drowning: A Slavic Microhistory of Global Proportions"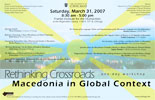 This talk by Keith Brown of Brown University was the keynote address of "Rethinking Crossroads: Macedonia in Global Context." The conference assembled both young and established scholars whose social-scientifically and humanistically informed work speaks to the contemporary realities of the Republic of Macedonia as they continue to be reshaped by actors and p
Author(s): The Center for International Studies at the Univer

Learning outcomes

On completion of this unit, you should be able to:
understand how to start SPSS;

define a variety of statistical variables;

enter basic data into SPSS;

carry out a statistical analysis that can test hypotheses.

Author(s): The Open University