"Collateral Damage: Human Rights and U.S. Foreign Policy in the 21st Century" (video)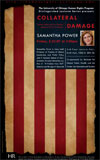 Lecture by Samantha Power, Anna Lindh Professor of Practice of Global Leadership and Public Policy, John F. Kennedy School of Government, Harvard University. Samantha Power's book, A Problem From Hell: America and the Age of Genocide, was awarded the 2003 Pulitzer Prize for general non-fiction. She was the founding executive director of th
Author(s): The Center for International Studies at the Univer

TALAT Lecture 2110.01: Automobile brake rotor - LCA in product design
This lecture imparts knowledge about ?production and casting of SiC-particle reinforced aluminium metal matrix composite - PMMC (SiCAl7SiMg); use of Life Cycle Analysis. It provides insight to how to redesign a product using life cycle thinking and LCA to minimize the ecological side effects; the importance of having a thoroughly knowledge about the product's life and its environmental impact. Some knowledge of the concept of the product information structure - "the chromosomes" and f
Author(s): TALAT,Tor Bakkelund, The Norwegian Institute of Te

Urban Sprawl Modelling: Combining Models to Make Decision
Urban sprawl is frequently associated with the idea of an unsuitable development, leading to increasing economic, social and environmental problems. Moreover, its control is difficult because multiple patterns (concerning numerous traditional urban planning fields) overlap. In order to understand the sprawl process and to manage its consequences, it must be simplified. The construction of a decision making tool appears then interesting. The GIS-based tool presented here is being developed incoll
Author(s): Antoni, J.P.

Guangming Smart-city: A New Chinese City
By 2010 it is anticipated that half of China's population will have moved from the countryside to the cities. The Chinese Government has recently presented Dongtan, near Shanghai, as their ecological showcase to the United Nations World Urban Forum, but what will tomorrow's new Chinese city be? Our key research concern was to design a more sustainable social and economic community and strike a balance between modernization and environmental preservation. The "ecological life-style" is a
Author(s): No creator set