Chile volcano cloud spreads
Southern Argentina struggles to cope with a blanket of ash after the eruption of the Calbuco volcano in Chile. Rough cut (no reporter narration). Subscribe: http://smarturl.it/reuterssubscribe More updates and breaking news: http://smarturl.it/BreakingNews Reuters tells the world's stories like no one else. As the largest international multimedia news provider, Reuters provides coverage around the globe and across topics including business, financial, national, and international news. For over
Author(s): No creator set

"Collateral Damage: Human Rights and U.S. Foreign Policy in the 21st Century"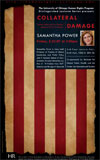 Lecture by Samantha Power, Anna Lindh Professor of Practice of Global Leadership and Public Policy, John F. Kennedy School of Government, Harvard University. Samantha Power's book, A Problem From Hell: America and the Age of Genocide, was awarded the 2003 Pulitzer Prize for general non-fiction. She was the founding executive director of th
Author(s): The Center for International Studies at the Univer

Please Play! Molecules Beckon
UMass Amherst chemistry professor Craig Martin wants the world to know that molecules are beautiful, so he created a unique interactive molecular playground where players can twirl, flip, rotate and re-size colorful models of chemicals including a zero-calorie fat substitute and a flu vaccine. The idea has caught on. There are now molecular playgrounds at the Springfield (Mass.) Science Museum, St. Olaf College in Minnesota and at science centers in San Francisco, Spain and Japan.
Author(s): No creator set

5.5 Experiences that motivated the development of systems methods


I have already introduced various systems methods. Behind all of these methods, there has generally been a champion, a promoter aided by countless co-workers, students, etc. To paraphrase the French sociologist of technology, Bruno Latour: we are never confronted with a systems method, but with a gamut of weaker and stronger associations; thus understanding what a method is, is the same task as understanding who the people are.

A method, like any social technology, depends on many peopl


Author(s): The Open University

Digital Nepal
Nepal is one of the poorest countries in the world, so just how has it managed to develop a wireless network and promote innovation? This collection explores how Nepal has developed its digital technological infrastructure, how it is still developing from a complex political background and gives a sense of how different cultures around the world relate to digital technology. The videos look at the country's recent history, with particular focus on education, health, language and the economy. Th
Author(s): The iTunes U team

3.7 Perspectives on practice: building relationships

Activity 10
0 hours 30 minutes
Listen to the following audio file 'Reflections: Anne Farmer'.
This is an excerpt from an interview with Anne Farmer, who acted as chair of the confe
Author(s): The Open University