Biography: Need to Know: Harriet Tubman
You may want to know about important people in history  and this video will give you a piece of history. This Video is  about an important person by the name of Harrie Tubman in Her work in helping people escape slavery has earned Harriet Tubman an honored place in history.
Author(s): No creator set

The Rise Of The Roman Empire
This professionally made video from Brain Pop uses simple terms and cartoon animation to explain the rise of the Roman Empire.  Run time 03:17.
Author(s): No creator set

"Baltimore Drowning: A Slavic Microhistory of Global Proportions" (video)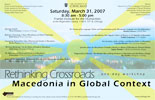 This talk by Keith Brown of Brown University was the keynote address of "Rethinking Crossroads: Macedonia in Global Context." The conference assembled both young and established scholars whose social-scientifically and humanistically informed work speaks to the contemporary realities of the Republic of Macedonia as they continue to be reshaped by actors and p
Author(s): The Center for International Studies at the Univer

Adding Three-Digit Numbers Using Mental Math
This video demonstrates addition of three-digit numbers mentally with multiples of ten. The problem appears on a white screen, and the strategy is explained step-by-step as the problem is solved. (01:30)
Author(s): No creator set

Eenheden omzetten : Oefeningen

Oefeningen om het omzetten van meeteenheden in te oefenen. Leerlingen leren hiermee ook de macht van tien te gebruiken.


Author(s): No creator set

2 How should we think of monotremes?

This section contains the first of the activities, Activity 1. If possible, you should do each activity as you come to it; the text that follows
Author(s): The Open University

2.3 The building of Thugga

So far we have been considering aspects of Thugga without taking into account the chronology of the site and its monuments. The following table lists the public buildings and monuments of Thugga which are securely dated by inscriptions and gives the date (as near as possible) of construction along with an assessment of how African or Roman they are.

Author(s): The Open University