John Comaroff's Introduction of Zackie Achmat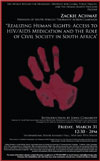 John Comaroff is Harold H. Swift Distinguished Service Professor of Anthropology at the University of Chicago. From the World Beyond the Headlines Series and Human Rights Distinguished Lecturer Series.



Author(s): The Center for International Studies at the Univer

Scale objects with 9-slice scaling
In this session you learn: How to master built-in browser controls in Ajax applications; The differences between various browser history managers; The reasons why browser history managers tend to be a little brittle.
Author(s): No creator set

Racial Inequality in Britain: the Macpherson Report 20 years on [Audio]
Speaker(s): Professor Kalwant Bhopal, David Lammy MP, Dr Clive James Nwonka, Dr Faiza Shaheen | How have legislative issues been addressed to remedy racial inequalities and what has been the impact on law, policing, socioeconomic inequalities, media, politics and education? Kalwant Bhopal (@KalwantBhopal) is a Professor of Education and Social Justice at the University of Birmingham. David Lammy (@DavidLammy) is the Labour Party politician MP for Tottenham. Clive James Nwonka (@CJNwonka) is Fell
Author(s): No creator set

Open Access Guide to Audiology and Hearing Aids for Otolaryngologists

The textbook is still in evolution, and chapters will be added as they are completed over the coming months. Cli
Author(s): UCT OpenContent

Basic Math: Lesson 6 - Introduction to Fractions


An informal introduction to why we need to learn about fractions, with examples from sports, food, etc.  This is the introduction to a longer lesson (Lesson 6) consists of a general tutorial about fractions. NOTE: the use of printed notes is integrated with the video (although not this introductory segment of the video).  Just the teacher in front of a whiteboard, with some silly introductory stuff.  The actual content begins around 1:45.


Author(s): No creator set

Chem 131B: Molecular Structure and Elementary Statistical Mechanics

Principles of quantum mechanics with application to the elements of atomic structure and energy levels, diatomic molecular spectroscopy and structure determination, and chemical bonding in simple molecules
Author(s): (Rachel Martin)

Questions for review and discussion

Question 9
Suppose a firm uses 200 hours of labour per day and produces 4000 mobile phones. It then reduces its labour inputs to 100 hours per day and finds it can produce 3000 phones. Which one of the following is a correct statement a
Author(s): The Open University

2.1 The heart of spectroscopy: dispersing light


Telescopes may simply be used to collect the light from an astronomical object in order to measure its position, brightness or spatial distribution. However, it is often far more instructive to examine the spectrum of light from an object such as a star or galaxy, namely the distribution of light intensity as a function of wavelength.

The spectrum of a light source may be revealed in several ways, all of which involve making light of different wavelengths travel in different dire


Author(s): The Open University

Holocaust Survivor Testimony: Shela Altaraz
For more Information: http://www.yadvashem.org/yv/en/remembrance/2015/torchlighters.asp Shela Altaraz was born in 1934 in Štip, Macedonia, the youngest of four children. Her father, David Sion, passed away before the war. In April 1941, Macedonia was occupied and annexed to Bulgaria. On March 11, 1943, Shela and her family were expelled to the city train station and robbed of their property. Together with hundreds of members of the city's Jewish community, the family was taken to the wareho
Author(s): No creator set

Try some yourself

Question 1
A company carried out a survey, recording how staff in a particular office spent their working time. The table shows the average number of minutes spent in each hour on various activities.