1 The pinnipeds, sirenians and cetaceans

As you work through this course you will come across boxes, like this one, which give you advice about the study skills that you will be developing as you progress through the course. To avoid breaking up the flow of the text, they will usually appear at the start or end of the sections.
As well as th
Author(s): The Open University

3.6.1 When we just want to forget ('we're only human')


Group memory systems might be counterproductive if they damage morale or prevent a team from moving on after a failure. Studies of software teams show that many commercial projects are cancelled before completion. This generates an intense pressure to work as hard as possible (so that maintaining group memory falls by the wayside) and, understandably, in many cultures if a project is regarded as a failure everyone wants to forget it as quickly as possible rather than analyse it for lessons le


Author(s): The Open University

5.4 Emergency planning as a public protection activity


Uniformed emergency services – police, fire authorities and ambulance services – and organisations such as NHS hospitals, have an obvious role in the response to civil emergencies. Local authorities have an important, although less clearly defined, role. This is based on a mixture of specific legal duties coupled to a general 'duty of care' to maintain essential services even in an emergency. Much of this section describes the work of local authority emergency planning officers (EPOs)


Author(s): The Open University

4.1 Race and place

The following poem was written by Jackie Kay who was born in Glasgow in 1961. Her mother was a white Scottish woman and her father was a black Nigerian student. She has written extensively about the subject of identity in the context of her own experience – for example, of being an adopted child, brought up in Glasgow.
Author(s): The Open University

21M.289 Islam/Media (MIT)
This course is an introduction to Islam from the perspective of media and sound studies, intended for advanced undergraduates and graduate students. From the time of the Prophet Muhammad, Islam in its various manifestations has had a complex relationship with media. While much contemporary writing focuses on Islam in the media, this course explores how many aspects of Islamic practice and thinking might be understood as media technologies that facilitate the inscription, storage and transmission
Author(s): McMurray, Peter

2.2 Recent governance failures


As we have discussed before, the creation of corporate regulation is often linked to perceived failures of corporations and their management to behave in the way society expect them to. Corporate governance is not an exception to this trend, and, as with accounting, different countries may well experience difficulties at different times. For example, the development of British codes of best practice, which began with the Cadbury Committee, can be related to governance scandals such as Polly P


Author(s): The Open University

"Freefall: America, Free Markets, and the Sinking of the World Economy" (video)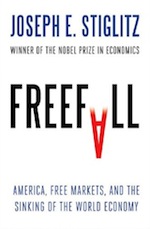 A talk by Columbia University professor Joseph Stiglitz. The current global financial crisis carries a "made in America" label. In "Freefall", Nobel laureate Joseph Stiglitz explains how America exported bad economics, bad policies, and bad behavior to the rest of the world, only to cobble together a haphazard and ineffective response when
Author(s): The Center for International Studies at the Univer

1.3.12 Internet resources

There are many websites where you will find useful information for education. With all information on the internet you need to make a judgement on the reliability of the information.
UCAS (Universities and Colleges Admissions Service for the UK)
Site contents include course information,
Author(s): The Open University


What is Love?
How do you define 'love'? Chelsea does a good job of explaining it in this very short video and Grover agrees.
Author(s): No creator set


Submarines
In an attempt to contend with the British Navy, Germany began to produce a new weapon of war—the U-boat.  U-boats, a common English abbreviation for the German word `Unterseeboot', were submarines. Unlike surface ships, U-boats, did not adhere to the traditional rules of engagement, which required raiders to stop a vessel, examine its cargo, and allow passengers to escape before sinking the ship. Instead, the strength of the submarine was its ability to strike without warning, while its major
Author(s): No creator set


Birdoswald Roman Fort J050054


HADRIAN'S WALL: BIRDOSWALD ROMAN FORT, Cumbria. Reconstruction drawing by Philip Corke of the main West gate in the mid 3rd century AD.


Author(s): No creator set


3 Chronology


Timeline
Event
1746
(30 March) Goya born in Fuendetodos, in the province of Aragon.
1759
Carlos III of Spain ascends the throne.
1760
Goya apprenticed to the painter José Luzán.
1770–1
Travels in Italy.
1771
Fir
Author(s): The Open University