Birdoswald Roman Fort J050054

HADRIAN'S WALL: BIRDOSWALD ROMAN FORT, Cumbria. Reconstruction drawing by Philip Corke of the main West gate in the mid 3rd century AD.


Author(s): No creator set

AIRS Volumetric Temperature Data with Gradient Background (Fly In)
This visualization shows Aqua-Airs simulated volumetric temperature data for September 13, 1999. The data was created using the Finite Volume Community Climate Model (FVCCM). Temperature and cloud data sets were match rendered for cross dissolves in post production. This visualization was created as a part of the Aqua prelaunch package.
Author(s): No creator set

4.4 The marine carbon cycle


The ocean stores much more carbon than the terrestrial system (Figure 1.9). How is this marine carbon fixed into organic carbon within the sediments, and what are the main reasons for marine carbon fluxes? Author(s):

The Open University

Stakeholders in marketing and finance
This free course, Stakeholders in marketing and finance, comprises two sections introducing the idea of customers and stakeholders for financial information. It also contains two activities in which learners are asked to relate the ideas discussed to their own work practice. None.
First published on Tue, 16 Feb 2016 as Author(s): None

2.5 Air circulation


At this stage, air circulation enters and plays a dual role. Firstly, winds transmit moisture horizontally from one location to another. In this way, moisture derived from oceanic evaporation can be transported many miles to a land mass. Secondly, convective or vertical currents arising from unequal heating or cooling can transmit moisture upwards. When it cools, some of the water vapour condenses. It is from these currents that most precipitation develops.


Author(s): The Open University

Joel Z. Leibo, McGovern Institute Friends Fellow 2012-2013


The Friends of the McGovern Institute Student Fellowship has been awarded to Joel Leibo for his work in Prof. Tomaso Poggio's lab. Leibo's research asks two key questions: How do we learn to recognize faces? And how can we build machines to do the same? He is applying his background in neuroscience and mathematics to the study of computational models of vision. Leibo p


Author(s): No creator set

Genocide Conference Panel 1: "Defining the 'Crime without a Name'"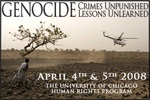 This panel will compare various instances of genocide and explore the possibility of developing models that can be used to prevent the occurrence of genocide. Marie Fleming, Professor of Philosophy, Florida State University; Juan Mendez, President, International Center for Transitional Justice, New York, & former Special Adviser to the U.N. Secretar
Author(s): The Center for International Studies at the Univer

How To Color & Ink Manga Illustrations Pt. 2

This is part two of a two-parter showing Mark Crilley's approach to using ink and colored pencils to finish things up on a manga illustration once the watercolor steps are done. Crilley shares some great techniques in this pair o
Author(s): No creator set

Reproducibility: Gold or Fool's Gold in Digital Social Research?
Christine Borgman's Keynote talk from the OII Symposium "Social Science and Digital Research: Interdisciplinary Insights", March 2012. This is a Keynote talk from the Oxford Internet Institute's Symposium "Social Science and Digital Research: Interdisciplinary Insights", held in Oxford on 12 March 2012. Data sharing has become a core tenet of science policy in the UK, the US, and elsewhere. Among the rationales for sharing data is improving the ability to reproduce or to replicate research. Repr
Author(s): No creator set

3.2.2 Ethane cracking


Although ethane can be cracked thermally, the reaction is slow and does not necessarily yield ethylene at high severity. Careful control of reaction conditions, however, allows the reaction to occur

The yield of ethylene is typically nearly 50 wt% wi


Author(s): The Open University

Tafels oefenen : Bingo

Met dit bingospel kunnen leerlingen de tafels inoefenen. De leerkracht zegt een oefening. Als de uitkomst op hun bingokaart staat, mogen de leerlingen dit vakje kleuren. Wie het eerst een volle lijn gekleurd heeft, is de winnaar.


Author(s): No creator set

21L.705 Major Authors: After the Masterpiece: Novels by Melville, Twain, Faulkner, and Morrison (MIT
This seminar provides intensive study of exciting texts by four influential American authors. In studying paired works, we can enrich our sense of each author's distinctive methods, get a deeper sense of the development of their careers, and shake up our preconceptions about what makes an author or a work "great." Students will get an opportunity to research an author in depth, as well as making broader comparisons across the syllabus.
Author(s): Kelley, Wyn

The First Political Parties
This is a 4:31 minute video using cartoon figures that helps to explain how and why the first political parties were formed. The arguments are well done and it provides a good way to present this often difficult topic to students. The video hints at the Federalist and Republican parties. Some silly sections though.
Author(s): No creator set

2.3 Community care, fear and the 'high-risk' service user

So far in this course you have seen how the concept of risk has come to suggest danger. This section explores in greater depth how the changes that have led to this situation have impacted on mental health policies and practice. The next activity involves reading an article to help you consider risk in the context of mental health services.

Author(s): The Open University

3.1 Studying families

However, if the concept is so tremendously complex, how then can we study family?
Activity 3
Please read the following piece from Jaber Gubrium and James Holstein (1990), where you are introduced to Borg, the extraterrestrial cyborg.
Author(s): The Open University

Silhouette Blends: Long & Short -u-
Hector and Lisa use their br-ight br-ains to come up with different words that can be made from one phoneme. The goals for this segment are vowel sounds long and short -u-. (0:30)
Author(s): No creator set

8.5 Summary of Section 8


Genes do influence development. However, genes do not always determine the developmental path. The prognosis for Wilson's disease is very good, because environmental intervention is possible. The prognosis for lissencephaly will remain poor for the foreseeable future. For many other characters the relationship with the genome is very complex. Searching for genetic correlates to disease will continue to be a major enterprise, but finding such a correlate should be likened to finding an accompl


Author(s): The Open University

2.3.4 Lateralisation


It has long been suspected that unusual patterns of cerebral lateralisation (i.e. the 'division of labour' between left and right hemispheres of the brain) may have some connection with dyslexia. Early researchers noticed an apparent excess of left-handedness in children with specific reading difficulties (and their relatives). However, most dyslexic people are in fact right-handed, and most left-handed people are not dyslexic. Nonetheless, large-scale analyses of the research find


Author(s): The Open University