"Collateral Damage: Human Rights and U.S. Foreign Policy in the 21st Century"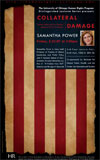 Lecture by Samantha Power, Anna Lindh Professor of Practice of Global Leadership and Public Policy, John F. Kennedy School of Government, Harvard University. Samantha Power's book, A Problem From Hell: America and the Age of Genocide, was awarded the 2003 Pulitzer Prize for general non-fiction. She was the founding executive director of th
Author(s): The Center for International Studies at the Univer

Introduction


We begin this unit by looking at an estuary, a place where sea, land and sky meet. We have chosen a particular estuary: the Blackwater estuary on the Essex coast in eastern England. Although the Blackwater has its own unique characteristics, it is used here as a setting, a device for approaching the study of environments. Like any other estuary, the Blackwater brings together a diverse range of processes, elements and issues that constitute the environment. It offers us a way into thinking ab


Author(s): The Open University

Introduction

When a company moves to a new site it is known as 'relocation'. This is a big decision, involving everyone connected with the company – staff, customers, suppliers and shareholders. It also affects the families, friends and communities of the people involved with the company. This unit uses case studies of different companies to show the steps involved in relocation.
Author(s): The Open University
Digital Nepal
Nepal is one of the poorest countries in the world, so just how has it managed to develop a wireless network and promote innovation? This collection explores how Nepal has developed its digital technological infrastructure, how it is still developing from a complex political background and gives a sense of how different cultures around the world relate to digital technology. The videos look at the country's recent history, with particular focus on education, health, language and the economy. Th
Author(s): The iTunes U team

History of the Internet
'History of the internet' is an animated documentary explaining the inventions from time-sharing to filesharing, from Arpanet to Internet. The clip shows a brief overview of this history and shall animate people to go on discovering the history of the internet.

The history is told with help of the PICOL icons - PICOL standing for PIctorial COmmunication Language and is a project to find a standard and reduced sign system for electronic communication.

History of the Inte
Author(s): No creator set