1 New Labour's approach welfare reconstruction

This audio file, recorded in 1999, explores questions about New Labour's approach to welfare reconstruction. The discussion is lead by John Clarke with contributions from Ruth Lister and Sharon Gerwitz and contains extracts of Tony Blair's speeches.
Participants in the audio programme were:
John Clarke Professor of Social Policy at The Open University;

Ruth Lister Professor of Social Policy, Loughborough Universit

Author(s): The Open University

Systems Of Equations With Fractions - Using Substitution
In this video lesson, students learn to solve systems of linear equations that involve fractions. Students also learn to solve linear systems of equations by the method of their choice using the following rules: if one of the variables cancels out when the equations are added together, then use addition, and if a variable is already isolated in one of the equations, then use substitution.
 (3:23)
Author(s): No creator set

Conversation with George Crumb & David Starobin
A conversation with composer George Crumb on his American Songbooks cycle with a longtime friend, Bridge Records producer David Starobin. Speaker Biography: George Crumb is an American composer of contemporary classical music. He is noted as an explorer of unusual timbres, alternative forms of notation, and extended instrumental and vocal techniques. Examples include seagull effect for the cello (ex. Vox Balaenae), metallic vibrato for the piano (ex. Five Pieces for Piano), and using a mallet t
Author(s): No creator set

Persistence in Economic and Political Institutions
Most research in political economy starts with the presumption that institutions persist and shape the political-economic interactions of different groups and agents. Many societies, however, experience frequent changes in their political institutions. Certain economic institutions also change. In the face of this picture of frequently changing institutions, do such institutions really persist? Professor James Robinson, Harvard University, discusses the nature of institutional persistence and e
Author(s): No creator set

500 NATIONS (PART 19) - Tecumseh
This is a clip from the six-hour documentary series 500 Nations, which is a comprehensive history of Native American history in the US after the arrival of explorers from other countries. Vintage photos are included in the video. (05:08)
Author(s): No creator set

1.3.2 Bringing remote sweatshops within reach

Activity 3
You can judge for yourself how effective campaigning groups have been in revealing the connections between producers and consumers by reading Extract 1, 'Nike in Thailand: Lern's story'. Posted on the Ox
Author(s): The Open University

3.3.1 First reading


The title of a Bill is read out and copies of it are printed but no debate takes place. There will be a vote on whether the House wishes to consider the Bill further.


Author(s): The Open University

Resettling refugees
Ed Grode has become a familiar face at Kakuma, helping families relocate and persevere. Editing by Dwight Irwin, synapsevideo.com, and Andy Burd.
Author(s): No creator set

Differentiatie in onderwijs : Succesfactoren van gedifferentieerd werken

De site bevat:
ideeën om te differentiëren in de klas;
manieren om het schoolteam te ondersteunen op vlak van differentiatie;
inspiratie om als lerarenopleider je studenten te leren differentiëren.
Op klasniveau biedt de site …


Author(s): No creator set

Spring 2010 Documentary Podcast: Global business, global values
Companies coming out of the recession are increasingly looking to India and China for new markets to penetrate and develop but, when they do, what lessons can they learn from other big players in the take-over business in countries like Japan and how should they manage those large "virtual teams" that criss-cross the globe? And would closer political union help the EU countries to compete in these emerging markets? Boni Sones reports in this Cambridge Judge Business School Spring 2010 documentar
Author(s): No creator set

Macroevolution Part II Allopatric Speciation

Video link (see supported sites below). Please use the original link, not the shortcut, e.g. www.youtube.com/watch?v=abcde
Phases of the Moon
A catchy rap song that discusses the phases of the moon: full, new, waxing, quarter, waning.

Author(s): No creator set

Odontología Legal y Forense (2014)
Los conocimientos odontológicos son necesarios para la resolución de multitud de problemas que plantea el ejercicio práctico del Derecho, ya sea la caracterización de determinados perfiles lesionales, mordeduras, etc, identificación de personas o valoración de la función odontoestomatológica. Al mismo tiempo el conocimiento de el marco normativo de la profesión resulta fundamental para un normal desempeño del ejercicio profesional como odontólobo. El conocimiento de las obligaciones q
Author(s): Creator not set

Terry Hodgkinson Inaugural Lecture
Terry has led the Regional Development Agency, Yorkshire Forward, as its Chair for seven years, overseeing the Agency in growing the economy of the Yorkshire and Humber region. He was honoured in the Queen's Birthday Honours 2010 with the award of a CBE for services to business and regeneration and was recently appointed as a Deputy Lieutenant for West Yorkshire. He has recently launched his new business, entitled 'Inspiration for Industry Education and Regeneration'. He holds a Visiting P
Author(s): Terry Hodgkinson,Leeds Metropolitan University

"U.S.-Cuban Academic Relations Part I: The Politics of U.S.-Cuban Exchanges"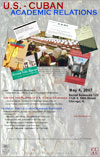 Wayne Smith, Center for International Policy and Louis Pérez, University of North Carolina-Chapel Hill.
U.S. and Cuban scholars involved in academic, scientific, and cultural research face significant difficulties in maintaining open and thorough dialogue with each other due to restrictions governing travel between the two countries. Such
Author(s): The Center for International Studies at the Univer