Middle East Peace?
In the wake of this week's peace summit in Annapolis, Bill Moyers Journal profiles the politically powerful group Christians United for Israel (CUFI), whose leader Pastor John Hagee wants to bring millions of Christians together to support Israel. But some say his message is dangerous: "It is time for America to...consider a military preemptive strike against Iran to prevent a nuclear holocaust in Israel and a nuclear attack in America." Bill Moyers Journal reports on CUFI and then gets theol
Author(s): No creator set

Bear Garden & Globe Theatre, Southwark 65S_BAN_1600_M

MAYSON BEETON COLLECTION. Bear Garden and Globe Theatre, Southwark, London, c.1600. Engraving c. 1815. 'Sparrow.Del, Austin.SC' (drawn by Sparrow, engraved by Austin).
© Historic England


Author(s): No creator set

John Comaroff's Introduction of Zackie Achmat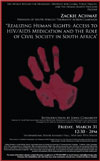 John Comaroff is Harold H. Swift Distinguished Service Professor of Anthropology at the University of Chicago. From the World Beyond the Headlines Series and Human Rights Distinguished Lecturer Series.



Author(s): The Center for International Studies at the Univer

3.6 Collecting and interpreting data

In many projects it can be difficult to make comparisons with anything similar. However, there may be quality standards that can be used for one of more of the outcomes, perhaps alongside different targets for time-scales and resource use. Benchmarks are another possible source of comparative data; they have been established for many processes, and data are available from industry, sector and professional support bodies.