EC.701J D-Lab I: Development (MIT)
D-Lab Development addresses issues of technological improvements at the micro level for developing countries—in particular, how the quality of life of low-income households can be improved by adaptation of low cost and sustainable technologies. Discussion of development issues as well as project implementation challenges are addressed through lectures, case studies, guest speakers and laboratory exercises. Students form project teams to partner with mostly local level organizations in deve
Author(s): Smith, Amy J.,Sanyal, Bishwapriya,Serrat, Victor G

Introduction to Education
OpenStax College


Some Rights Reserved
Author(s): No creator set

King Lear to In the loop : fiction and British politics
On 11 December 2009, Nottingham University's Centre for British Politics held a conference at the British Academy that drew together politicians, writers and academics to explore the interaction of British politics and fiction. In addition to the conference several video interviews were conducted with some of the speakers on the day. In this interview taken at the Fiction and British Politics Conference in London, academic and director of the Centre for British Politics, Professor Steven Fiel
Author(s): Fielding S. J. Professor

"Petroleum Technology Presentation"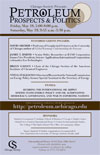 A talk by Brian C. Gahan, Energy Consultant; Chair of the Chicago Section of the American Institute of Chemical Engineers; former Senior Scientist and Manager of E&P Technology Development at the Gas Technology Institute. Session 4 of the conference "Petroleum: Prospects and Politics." Sponsored by the Chicago Society. Co-sponsored by the Student Government of the Universi
Author(s): The Center for International Studies at the Univer

Introduction


Contributions from leading academics, voluntary sector campaigners and practitioners, highlight the distinctive features of Scotland's experience of poverty and the extent to which devolved and reserved policies have contributed to progress in tackling it.

This unit is from our archive and is an adapted extract from the book Poverty in Scotland 2011, originally published by Child Poverty Action Group, in association with Glasgow Caledonian University, The Open University and Pove


Author(s): The Open University

Lesson 07 - One Minute Romanian
In lesson 7 of One Minute Romanian you will learn to say that it's nice to meet someone in Romanian. Remember - even a few phrases of a language can help you make friends and enjoy travel more. Find out more about One Minute Romanian at our website - http://www.oneminutelanguages.com. One Minute Romanian is brought to you by the Radio Lingua Network and is ©Copyright 2008.
Author(s): No creator set