Light : particle or wave?
This is a detailed explanation of the dual nature of light, complete with clear, labeled line drawings and Java interactive tutorials.
Author(s): Kenneth R. Spring,Michael W. Davidson

Male Giant Panda Bear Dust Bathing
This short video gives excellent real life footage of a male Giant Panda dust bathing. This is a great resource to help build background knowledge and to help make real world connections between nature and the classroom. (Less Than 2 Minutes)
Author(s): No creator set

Working and Learning In Sport and Fitness
Want to improve your professionalism and effectiveness in the workplace? This album explains how to develop reflective skills and improve leadership techniques. With an emphasis on interpersonal communication, teaching methods and customer care, it's relevant to those instructing, coaching or managing others in a range of sport and fitness settings. The eight video tracks on this album follow professionals working in a gym, a sports college and an ice-rink. They demonstrate how to encourage mo
Author(s): The iTunes U team

Testing copy of ITSE 1359 Introduction to Scripting Languages: Python
Ed Woodward
This is for testing. Do not use

Some Rights Reserved
Author(s): No creator set

One Second of Light [Audio]
Speaker(s): Giles Duley | One Second of Light is Duley's latest book, covering his work on the effects of conflict and humanitarian disaster over the last decade. Duley's work has mostly been in partnership with NGO's and charities, such as EMERGENCY UK. Duley will talk about the relationship and the role of photography in advocacy and raising awareness. Giles Duley (@gilesduley) was born in 1971 in London. After 10 years as an editorial photographer in the fashion and music industries in
Author(s): No creator set

Making the DIY Clinometer
Link to Youtube video showing how to make a do-it-yourself clinometer
Author(s): Leeds Metropolitan University

IPL: Jonathan Waters "Discovering prehistoric New Zealand"
Professor Jon Water's Inaugural Professorial Lecture on 6th of August 2013. Jon talks about genetics and how DNA can be used to map extinction and recolonization - for plants as well as animals. He talks about populations of freshwater galaxiids that have been separated by geological events, and about prehistoric sealions and penguins that became extinct with human colonisation, and how new populations have then taken the place of those prehistoric species.
Author(s): No creator set

Varios estudiantes de Bellas Artes

Actividad 3
En esta actividad va a escuchar a varios estudiantes de Bellas Artes explicar lo que es para ellos el arte.
1 Como se trata de una conversación informal en la que los participantes se interrumpen
Author(s): The Open University

References

Alley, R. B. (2000) The Two Mile Time Machine, Princeton, Princeton University Press.
Arnakak, J. (2000) 'What is Inuit Qaujimajatuqangit?', Nu
Author(s): The Open University

Money talks: Monopolies and boardroom games


How powerful firms could undermine public faith in capitalism. Shakespearean drama in Nokia's boardroom. And most businesses are ramping up their holiday hiring, but where will they find workers? Simon Long hosts.

Music by TeknoAXE CC by 4.0 (Cello Zen, The Cold of the Night)


Author(s): No creator set

Politics in 60 seconds. Voting
Professor Cees van der Eijk defines a polical concept in 60 seconds for those with a spare minute to learn something new. This videocast focuses on voting as a political concept. Warning: video does contain bloopers and out takes. May 2010 Suitable for Undergraduate study and Community education Professor Cees van der Eijk, School of Politics and International Relations Professor Cees van der Eijk is Professor of Social Science Research Methods, and Director of Social Sciences Methods and D
Author(s): Van der Eijk C. Professor

Why We Need a New Way to Measure the Economy
In order to build a better economy, we must find more accurate ways to measure value within it, economist Mariana Mazzucato writes in a new book.

Author(s): No creator set

Jonzen - female nude OP32774

Festival of Britain 1951. Lambeth, London. A terracotta sculpture of a female nude by Karin Jonzen produced for the South Bank Exhibition. This work is one of the sculpture commissions made by the Arts Council for the Festival of Britain in 1951.
© Historic England


Author(s): No creator set

One Minute Romanian - flyer
From the makers of the award-winning online language course Coffee Break Spanish comes a new range of titles aimed at busy people who want to acquire the absolute basics of a language. One Minute Languages from the Radio Lingua Network will introduce learners to a new language from scratch. The course is made up of ten lessons and covers topics including basic greetings, introducing yourself, and dealing with language problems. You'll also learn numbers and other useful words and phrases whi
Author(s): No creator set

References

Ashworth, P. (2003) 'An approach to phenomenological psychology: the contingencies of the lifeworld', Journal of Phenomenological Psychology, vol. 34, no. 2, pp. 145–56.
Bordo, S. (1993) Unbearable Weight: Feminism, Western Culture and the Body, Berkeley, CA, University of California Press.
Burkitt, I. (1999) Bodies of Thought: Embodiment, Identity and
Author(s): The Open University

1.1 Experiences of learning mathematics


You will come to this course with many memories of mathematics, both as a teacher and a learner. It may help if you start by recalling memories of learning mathematics and making a record of them in your notebook.

When you work on a task, get into the habit of having your notebook to hand to record your thinking. Use the notebook in any way that helps you to think about the work you have done. Some people find it helpful to divide a page into two columns using the left-hand side to reco


Author(s): The Open University

Jokes and Humour
This video deals with telling jokes and different types of humour. There is presentation of vocabulary and expressions and there are explanations and examples. At the beginningthe presenter acts out as a comedian and you can read his script all through the video.
Author(s): No creator set

"Securing the International Oil Supply"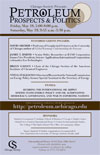 A panel featuring David Goldwyn, President of Goldwyn International Strategies LLC; Senior Fellow in the Energy Program at the Center for Strategic and International Studies; former Assistant Secretary of Energy for International Affairs; Scott Nauman, Manager of Economics and Energy in Corporate Planning for ExxonMobil Corporation; and Michael Klare, Five College Professor
Author(s): The Center for International Studies at the Univer

Babbage: From footies to selfies
Brain scans of American footballers reveal the darker side of contact sports and a new study on social media uncovers why we take selfies
Author(s): No creator set