IPL: Jonathan Waters "Discovering prehistoric New Zealand"
Professor Jon Water's Inaugural Professorial Lecture on 6th of August 2013. Jon talks about genetics and how DNA can be used to map extinction and recolonization - for plants as well as animals. He talks about populations of freshwater galaxiids that have been separated by geological events, and about prehistoric sealions and penguins that became extinct with human colonisation, and how new populations have then taken the place of those prehistoric species.
Author(s): No creator set

Lesson 10 - One Minute Romanian
In lesson 10 of One Minute Romanian you will learn a few useful phrases which all learners want to learn. Remember - even a few phrases of a language can help you make friends and enjoy travel more. Find out more about One Minute Romanian at our website - http://www.oneminutelanguages.com. One Minute Romanian is brought to you by the Radio Lingua Network and is ©Copyright 2008.
Author(s): No creator set

Jokes and Humour
This video deals with telling jokes and different types of humour. There is presentation of vocabulary and expressions and there are explanations and examples. At the beginningthe presenter acts out as a comedian and you can read his script all through the video.
Author(s): No creator set

"United States Energy Policy and Oil Alternatives"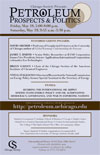 A panel featuring James Bartis, Senior Policy Researcher at RAND Corporation; former Vice President, Science Applications International Corporation; Cofounder, Eos Technologies; Roger H. Bezdek, President of Management Information Services, Inc.; former Special Advisor on Energy in the Office of the Secretary of the Treasury; and Vito A. Stagliano, Director of Research at t
Author(s): The Center for International Studies at the Univer

Resource #14376
UNSPECIFIED - UNSPECIFIED Keywords:UNSPECIFIED
Author(s): No creator set

References

Anon. (2003) 'Spy chief warns food industry over terrorism', Environmental Health News, 24 October 2003, p. 2.
Cabinet Office (2003) Dealing with Disaster, revised 3rd edn, Civil Contingencies Secretariat.
Commercial Union Risk Management Ltd (1992) 'Crisis: A timetable for recovery'.
Dodswell, B. (2000) A G
Author(s): The Open University

Christians for Israel.
As leader of the politically powerful group Christians United for Israel (CUFI), Pastor John Hagee wants to bring millions of Christians together to support Israel. But some say his message is dangerous: "It is time for America to...consider a military preemptive strike against Iran to prevent a nuclear holocaust in Israel and a nuclear attack in America." Bill Moyers Journal reports on CUFI and then gets theological and political context from Rabbi Michael lerner, editor of TIKKUN, a Jewish
Author(s): No creator set

LSE Literary Festival 2017 | Step Up: How can you transform your career in just 10 minutes a day? [A
Speaker(s): Phanella Mayell Fine and Alice Olins | Editor's note: Apologies for the poor quality audio in this podcast. Women's careers aren't just in the ether, they're on the front pages of newspapers, inside glossy magazines, on the radio, across the internet and they're being discussed on a daily basis in governments all around the world. Sure, if you look at gender-split statistics, the situation is as depressing as it's ever been, but the reality is slowly catching up with the legal framew
Author(s): No creator set

500 NATIONS (PART 21)
This is a clip from the six-hour documentary series 500 Nations, which is a comprehensive history of Native American history in the US after the arrival of explorers from other countries. Vintage photos are included in the video.
Author(s): No creator set

4.2.1 Search engines: what are they?

The computer application that facilitates finding things on the web is known as a search engine. This is an application that serves a similar function to an index in a book. Figure 9(a) shows the home page of a typical search engine called Google.

Author(s): The Open University

2 Community

As you've just seen, 'community', an ever present word, evokes some contrasting meanings. It has been described as a 'keyword', that is, a word which has its own particular history but which also plays a significant role in putting across different meanings. Identifying a keyword is to go further than just giving a dictionary definition because: