1001 belachelijke sterfgevallen : Begrijpend lezen

Leerlingen lezen een krantenartikel over het boek 1001 Ridiculous Ways to Die van David Southwell. Nadien beantwoorden ze er enkele vragen over.


Author(s): No creator set

17.951 Nuclear Weapons in International Politics: Past, Present and Future (MIT)
This course will expose students to tools and methods of analysis for use in assessing the challenges and dangers associated with nuclear weapons in international politics. The first two weeks of the course will look at the technology and design of nuclear weapons and their means of production. The next five weeks will look at the role they played in the Cold War, the organizations that managed them, the technologies that were developed to deliver them, and the methods used to analyze nuclear fo
Author(s): Cote, Owen,Walsh, James

Culture under Fire [Audio]
Speaker(s): Professor Helen Frowe, Issam Kourbaj, Vernon Rapley, Professor Eleanor Robson | From the recent destruction of Palmyra and the looting of the National Museum of Iraq, cultural artefacts are one of the many casualties of armed conflict. What exactly is cultural property and whose property is it? How should we weigh its value against other priorities during times of conflict? What risks should be taken to protect it, and who is responsible for rebuilding and restoring when the conflict
Author(s): No creator set

Derived copy of How Economies Can Be Organized: An Overview of Economic Systems
Ken McCormick
By the end of this section, you will be able to: Contrast traditional economies, command economies, and market economies Explain gross domestic product […]


Author(s): No creator set

CSET Science Subtest I Exam Preparation Resource

Topics

Astronomy
Geodynamics
Earth Resources
Optics & Waves
Forces & Motion
Electricity & Magnetism
New users must register (enroll) in the course
Author(s): (Leila Belkora)

1.1 What this course is about

Each venture

Is a new beginning, a raid on the inarticulate …

T. S. Eliot, 'East Coker'
Some years ago I was playing with my nephew. 'Guess what', he said. 'My gran remembers before there was television!' He was clearly thinking about the past in terms of 'before there was television'.

At that time, I was working in computing, and most people couldn't really un


Author(s): The Open University

Babbage: The ethics of AI


Artificial intelligence heralds the fourth industrial revolution. But what are its ethical challenges? Also, Anne McElvoy and producer Cheryl Brumley head under Manhattan to inspect New York's newest water tunnel. And the biggest rocket in the world prepares for its maiden flight. Kenneth Cukier hosts.


Author(s): No creator set

References

Arnett, P. et al. (1998) Flash! Associated Press Covers the World, New York, Harry N. Abrams.
Barley, N. (1983) The Innocent Anthropologist, London, Penguin.
Becker, H.S. (1985) 'Do photographs tell the truth?' in Cook, T.D. and Reichardt, C.S. (eds) Qualitative and Quantitative Methods in Evaluation Research, London, Sage.
Author(s): The Open University

The Purposeful Company: a healthy prescription for UK plc? [Audio]
Speaker(s): Ian Burger, Clare Chapman, Will Hutton, Professor David Kershaw and Professor Colin Mayer | Will Hutton, Chair of the Big Innovation Centre Steering Group and Colin Mayer of Saïd Business School, University of Oxford will present evidence from the Interim Report and indicate the nine headline areas in which they are developing recommendations for the Policy Report to be published in February 2017, which they help to co-author. This extremely timely report, coming at a time when Parl
Author(s): No creator set

Confronting Violence | Policy Responses || Radcliffe Institute
POLICY RESPONSES This panel examines the impact of institutional and governmental policies on the incidence and tolerance of gender-based violence. Moderator: Jacqueline Bhabha, FXB Director of Research and Professor of the Practice of Health, Harvard T.H. Chan School of Public Health; Jeremiah Smith Jr. Lecturer in Law, Harvard Law School 11:35 Flavia Agnes, Legal Scholar, Author, Women's Right Activist, and Lawyer 32:37 Gina M. Grosso, Major General, Director of the Air Force Sexual Assa
Author(s): No creator set

"U.S.-Cuban Academic Relations Part II: Roundtable Discussion on U.S.-Cuban Academic Exchange" (vide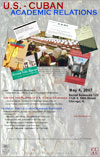 Introduction: Alan Kolata, University of Chicago. Discussants: Stephan Palmie, University of Chicago; Agnes Lugo-Ortiz, University of Chicago; Shannon Dawdy, University of Chicago; Laurie Frederik, University of Chicago; Paul Ryer, University of Chicago.
U.S. and Cuban scholars involved in academic, scientific, and cultural research face
Author(s): The Center for International Studies at the Univer

17.32 Environmental Politics and Policy (MIT)
"Environmental Politics & Policy" explores the workings of environmental policymaking in the United States. What are the big issues facing environmental policy? How did we end up with the policies we have today? Why does it take a crisis to move environmental policy forward? Why do political factors - economic interests, social and political values, bureaucratic styles, ideologies, elections, etc. - always seem to overwhelm sound scientific and engineering judgment in determining policy out
Author(s): Meyer, Steve

3.2 Necessities and luxuries

As the division of opinion between the government and low income people illustrates, definitions of poverty are the stuff of political debate. People in the Rowntree studies tended to focus on 'paying bills and food'. Most people's list of basic needs would also include adequate food and clean water, clothing, shelter and heating. But are there also less apparently physiological, more evidently social, necessities of life?
Author(s): The Open University

Language of Movement



00:01:39
© 2000–2016 The Metropolitan Museum of Art. All rights reserved.
Author(s): No creator set

Keep on learning

Study another free course
There are more than 800 courses on OpenLearn for you to
Author(s): The Open University

4.4 Discussion


In this second case study, I have described two different trends in energy use by cold appliances over the last few decades. On the one hand the efficiency with which appliances use electrical energy has improved but, in spite of this, their consumption of electricity has increased significantly in recent decades. Since 2000 consumption has started to decline, probably as a result of the introduction of minimum energy standards. The trend will only continue if we demand and use the most energ


Author(s): The Open University