House Committee on Government Oversight, Viewer Mail, Government Secrecy
Bill Moyers Journal goes beyond the rhetoric and examines the reality of waste and abuse of power in Washington with a look at the investigations being conducted by Congress's Committee on Oversight and Government Reform. "If no one thinks they're being watched and being held accountable, they think they can get away with anything," says Rep. Henry A. Waxman (D-CA), the Committee's chairman. Plus, viewer mail and an essay from Rick Karr on government secrecy.
Author(s): No creator set

Voorbereiding sintbezoek : Stappenplan en kalender

Hoe bereid ik het sintbezoek voor voor kinderen met autisme? Visuele ondersteuning en structuur geeft aan deze kinderen de nodige houvast.

Op een kalender met picto's wordt aangeduid welke activiteiten plaatsvinden rond de sintperiode. In het …


Author(s): No creator set

21L.470 Eighteenth-Century Literature: Versions of the Self in 18th-C Britain (MIT)
When John Locke declared (in the 1690 Essay Concerning Human Understanding) that knowledge was derived solely from experience, he raised the possibility that human understanding and identity were not the products of God's will or of immutable laws of nature so much as of one's personal history and background. If on the one hand Locke's theory led some to pronounce that individuals could determine the course of their own lives, however, the idea that we are the products of our experience just as
Author(s): Jackson, Noel

Beginner - Algerian: Travelling where?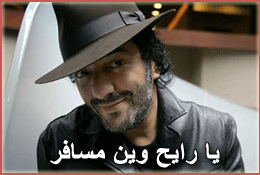 We have another podcast today that was requested by one of you guys! We translate a famous Algerian song. You will might find that the north African dialect sounds considerably different than others, but it is quite similar once the vocabulary has been broken down.


Author(s): No creator set

25 Years After the End of the Cold War: Its Legacy in a New World Order [Audio]
Speaker(s): Professor Beatrice Heuser, Dr Andrew Monaghan, Professor Vladislav Zubok | Twenty-five years after the fall of the Berlin Wall and the end of the Cold War, how do these events shape the world today? What are the legacies of the Cold War? And are we truly in the midst of a new Cold War? This event will mark the launch of the special issue of Cold War History, entitled 'The Cold War in Retrospect - 25 years after its end', edited by Professor Beatrice Heuser. Credits: Tom Sturdy (Aud
Author(s): No creator set

The impact of enterprise focussed modules
This presentation outlines the use of a tested research instrument (Bandura's self efficacy theory) and students own perceptions of their enterprise skills and abilities
Author(s): Creator not set

Introduction

Earthquakes shake the ground surface, can cause buildings to collapse, disrupt transport and services, and can cause fires. They can trigger landslides and tsunami – in short, earthquakes can be very destructive. In this unit you will look at why, where and what happens when they occur and also at how earthquakes are assessed qualitatively and quantitatively.