David Roentgen: Apollo Clock



00:00:29
© 2000–2016 The Metropolitan Museum of Art. All rights reserved.
Author(s): No creator set

1.4.2 P is for Presentation

By presentation, we mean, the way in which the information is communicated. You might want to ask yourself:
Is the language clear and easy to understand?

Is the information clearly laid out so that it is easy to read?

Are the fonts large enough and clear?

Are the colours effective? (e.g. white or yellow on black can be difficult to read)

If there are graphics or photos, do they help

Author(s): The Open University

Francis Deng: Genocide Conference Keynote Address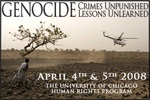 Keynote address by Ambassador Francis Deng, Research Professor, Johns Hopkins University's School of Advanced International Studies and Director of the SAIS Center for Displacement Studies; Senior Fellow, Brookings Institution; Special Adviser to the U.N. Secretary General for the Prevention of Genocide and Mass Atrocities. Part of a two-day conferen
Author(s): The Center for International Studies at the Univer

22.312 Engineering of Nuclear Reactors (MIT)
This course covers the engineering principles of nuclear reactors, emphasizing power reactors. Specific topics include power plant thermodynamics, reactor heat generation and removal (single-phase as well as two-phase coolant flow and heat transfer), and structural mechanics. It also discusses engineering considerations in reactor design.
Author(s): Buongiorno, Jacopo

Adding Three-Digit Numbers Using Mental Math
This video demonstrates addition of three-digit numbers mentally with multiples of ten. The problem appears on a white screen, and the strategy is explained step-by-step as the problem is solved. (01:30)
Author(s): No creator set

1.2 What is a 'career'?

Understanding the key terms in CEG is vital to understanding your role in it. Very few students go into full-time jobs at 16 and the concept of 'career' as a job for life is irrelevant to the twenty-first century labour market. Click on 'View document' below to read a careers overview, which explores this further.