"Collateral Damage: Human Rights and U.S. Foreign Policy in the 21st Century" (video)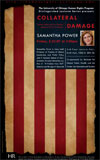 Lecture by Samantha Power, Anna Lindh Professor of Practice of Global Leadership and Public Policy, John F. Kennedy School of Government, Harvard University. Samantha Power's book, A Problem From Hell: America and the Age of Genocide, was awarded the 2003 Pulitzer Prize for general non-fiction. She was the founding executive director of th
Author(s): The Center for International Studies at the Univer

Development of Digital City Models Using 3d GIS
?Digital city? is a copy of an actual city in the virtual space. It is expected to play an important role in urban planning, disaster simulation etc. Recent advanced remote sensing technologies, which are capable to quickly provide detailed information of city areas, ease the construction of 3D city models. Urbanization has evinced interest from a wide section of the society including experts, amateurs and novices. With the development and infrastructure initiatives mostly around the urban cente
Author(s): Albotany, Hussein S.

America's economy reformed?
Just over a year after economic calamity brought promises of reform to Washington, many now say that the recession is nearing an end. But is it business as usual for Wall Street, and have future financial crises been averted? Former International Monetary Fund chief economist Simon Johnson and US Rep. Marcy Kaptur (D-OH) join Bill Moyers for a report card on the bailouts, an update on the state of the U.S. economy, and to find out whether efforts of reform have been derailed. And, Bill Moyers
Author(s): No creator set

Here's To You, Mrs. Robinson: The Letters of Charles and Sarah Robinson
Dr. Charles Robinson and his wife, Sarah, were both prominent figures in the battle to make Kansas a free state. But that doesn't mean they always saw eye-to-eye. Hear, in their own words, what it was like to be a "power couple" in the antislavery movement in Territorial Kansas. Musical selections performed by The Free Staters (www.thefreestaters.com) and Curly Miller and Carole Anne Rose (http://theold78s.com/).
Author(s): No creator set

3.5 The screening current

The London equations relate the magnetic field in a superconductor to the superconducting current density, and we derived the dependence of field on position by eliminating the current density. However, if we eliminate the magnetic field instead, we can derive the following equation for the current density:
Bewogen worden en in beweging komen - Land in Zicht 5

Tijdens deze les ontdekken leerlingen wat het betekent om bewogen te worden en in beweging te komen. Ze maken kennis met diverse organisaties die in beweging komen.


Author(s): No creator set

Acknowledgements


This unit was prepared by Tom Power with guidance from Dr Arlene Hunter.

Tom Power is a lecturer in science education at The Open University. His research interests include teacher education in the global south (www.open.ac.uk/deep) and the CASE intervention. He has been a teacher and an advisory teacher in East Sussex and a specialist adviser to the TTA teacher research panel.

Dr Arlëne Hunter, Staff Tutor in Science in Ireland, The Open University, is responsible for the manage


Author(s): The Open University

Introduction

The aim of Managing Projects through People is to demonstrate the importance of managing people for the success of a project, to identify groups and individuals whose appropriate involvement in a project is important for its success, and to consider ways in which their contribution might be maximised.
This OpenLearn course provides a sample of postgraduate study in Author(s): The Open University

3.5.3 Mechano-electrical transduction is rapid


Many other sensory receptors, such as photoreceptors and olfactory neurons, employ second messengers in the transduction process. This is not true for hair cells. The rapidity with which they respond makes this impossible. In order to deal with the frequencies of biologically relevant stimuli, transduction must be rapid. The highest frequency humans can hear is about 20 000 Hz. This in effect means that hair cells must be able to turn current on and off 20 000 times per second (200 000 tim


Author(s): The Open University