Dr Azouz Begag: From Shanty Town Kid to Government Minister in France
Dr. Azouz Begag, France's best-known writer of Algerian immigrant origin, former Minister for Equal Opportunities, sociologist, novelist, and screenplay writer, speaks about his journey from shanty town kid to government minister in France. He talks of his passionate commitment to social emancipation for 'young ethnics' in France through education and political engagement. 2 August 2013
Author(s): No creator set

Lord Ian Blair: leading under public scrutiny
The former Commissioner of the Metropolitan Police Service, Lord Ian Blair of Boughton, shares his key take-aways from the panel "Leadership: a convenant of trust?" at London Business School's Global Leadership Summit 2013.
Mexican Spanish Survival Phrases #14 - Mexican Restaurant, Part 2: Reserving a Table
Learn Mexican Spanish travel phrases with SpanishPod101.com! A little Spanish can go such a long way! Whether you're traveling, visiting, or sightseeing, SpanishPod101.com has all the essential travel phrases just for you! In this lesson we cover a high frequency Mexican Spanish phrase that you'll surely [...]
Author(s): SpanishPod101.com

Trafficking Networks and Threats to Security in West Africa: the case of Mali [Audio]
Speaker(s): Dr Kwesi Aning | An examination of the changing strategic security environment in West Africa and the effectiveness of the response initiated by the Economic Community of West African States (ECOWAS) with the support of the international community. Kwesi Aning is the head of academic affairs at the Kofi Annan Peacekeeping Centre in Accra.
Author(s): No creator set

"Baltimore Drowning: A Slavic Microhistory of Global Proportions"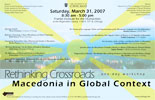 This talk by Keith Brown of Brown University was the keynote address of "Rethinking Crossroads: Macedonia in Global Context." The conference assembled both young and established scholars whose social-scientifically and humanistically informed work speaks to the contemporary realities of the Republic of Macedonia as they continue to be reshaped by actors and p
Author(s): The Center for International Studies at the Univer