"Mexican Oil and Gas Policies"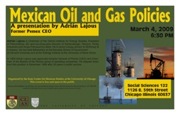 A presentation by Adrián Lajous, Former Pemex CEO. Adrián Lajous is Chairman of the Oxford Institute for Energy Studies, President of Petrométrica, SC and non-Executive Director of Schlumberger, Ternium, Trinity Industries and Grupo Petroquímico Beta. He is senior energy advisor to McKinsey & Company. In 2003-04 he was a Senior Fellow at the Kennedy School of Governme
Author(s): The Center for International Studies at the Univer

5.3 Signal speeds, propagation times and distance: the formula triangle

When signals travel along a wire or optical fibre, or through space, the relationship between the speed, propagation time and distance can be written in three ways, depending upon which one you want to calculate.
If you know the speed and the propagation time and want to know how far the signal will travel, you use: