Colloque "Écrire et soigner" : 2ème partie , après-midi (audio)


« Être auteur de sa pensée »


1. Walter Hesbeen

Titre de la communication: Mémoire de fin d'études des étudiants en soins infirmiers - Se mettre en recherche pour penser et affiner sa pratique

Infirmier et docteur en santé publique de l'Université catholique de Louvain (UCL-Belgique). Il a été directeur des ...


Author(s): No creator set

A History of Scotland, Season 1, Episode 1
A history of Scotland starting with the very first clan/tribe. This BBC documentary is suitable for middle school and high school students. (48:32)
Author(s): No creator set

Using a Function Machine to Create a Math Rule
The video appears dark because the instructor has a projector on in a darkened room. However, the information is demonstrated fairly well. The teacher shows how to use the function machine to find the unknown rule to a set of number pairs by investigating the pattern. (1:21)
Author(s): No creator set

"Securing the International Oil Supply"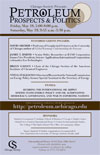 A panel featuring David Goldwyn, President of Goldwyn International Strategies LLC; Senior Fellow in the Energy Program at the Center for Strategic and International Studies; former Assistant Secretary of Energy for International Affairs; Scott Nauman, Manager of Economics and Energy in Corporate Planning for ExxonMobil Corporation; and Michael Klare, Five College Professor
Author(s): The Center for International Studies at the Univer

3.5 Actividad

Actividad 3.5
Heidi, one of the members of the theatre group Expresiones, has gone on a trip to Montevideo, in Uruguay. A friend of hers there, Javier, is letting her stay in his flat. He has left her a note recomme
Author(s): The Open University

2.4 National variation


Relatively little research has been undertaken by photohistorians in the field of domestic photography. However, we should be aware that photography developed in different ways in different countries. So, for example, in Britain the daguerreotype remained a luxury article, as high prices restricted sales to the comfortable classes, whereas in America, because of early mass production techniques, studios could offer 4 daguerreotypes for 1 dollar.

Photography was, however, a European inve


Author(s): The Open University

Albert Moore Memorial Lecture Series 2013: Regret and Resistance: The Crucified Tekoteko
This is the third and final lecture in the inaugural Albert Moore Lecture Series for 2013. The 2013 open lecture series, given by Professor Jonathan Mane Wheoki, Professor of Fine Arts, Elam School of Fine Arts, University of Auckland, is based around the theme "Toi Karaitiana: Christianity and Māori Art and Architecture". 25 July 2013
Author(s): No creator set

Energy efficiency: hospitals
What strategies can hospitals adopt to reduce their impact on the local and global environment? How might they reduce the carbon footprint of vehicles transporting patients, visitors and goods? This album visits three hospitals which have adopted green approaches to energy efficiency, by cutting electricity consumption, reducing traffic volume, and even generating their own renewable energy. This material forms part of The Open University course T206 Energy for a sustainable future.Author(s): The iTunes U team

References

4.13 Gender and parenting

Other feminist writers have used psychodynamic ideas to support their argument that gender differences, while 'real', are not inevitable but the result of the ways in which children are socialised in contemporary western societies. Nancy Chodorow, for example, claims that the isolated nuclear family in contemporary capitalist society is responsible for creating 'specific personality characteristics in men':

Author(s): The Open University

2.9 (v) Private Members' Bills


Individual Members of Parliament have the power to introduce their own legislation known as a Private Members' Bill. An example of a successful Private Members' Bill which became law is the Marriage Act 1994 introduced by Gyles Brandreth who was MP for Chester at the time. This Act allows people to marry in any registered place, not just a Register Office or religious building. Private Members' Bills may be the result of an MP being approached for support for a proposal put forward by particu


Author(s): The Open University

Media??o digital e revis?o dos processos de design em Arquitetura [Digital mediation and review of d
This paper presents partial results of doctoral research entitled Architecture, Semiotics and Second Order Cybernetics: observation, representation and performance in design process. The research is linked to the Nomads.usp research group and proposes a review of design process, considering the mediation of digital media by using concepts of Second order Cybernetics. This work start with the hypothesis that in a contemporary context, professional demands of architects and designers requires a d
Author(s): Alves, Gilfranco; Pratschke, Anja

Literary Festival 2016: Re-Writing the Past vs Imagining the Future [Audio]
Speaker(s): Miriam Halahmy, Philip Womack, M M Vaughan | In this discussion aimed at young adults (or adults who are young at heart), our panel of critically acclaimed YA authors will discuss how they recreate historical events or invent future ones in their writing. Where will your imagination take you? Miriam Halahmy (@MiriamHalahmy) is an author and a poet. She has published four novels and three collections of poetry, as well as short stories and education resources. Her young-adult novel, H
Author(s): No creator set

The Life of Joseph Warren, Colonial Patriot
"Dr. Joseph Warren (June 11, 1741 – June 17, 1775) was an American doctor who played a leading role in American Patriot organizations in Boston in early days of the American Revolution, eventually serving as president of the revolutionary Massachusetts Provincial Congress. Warren enlisted Paul Revere and William Dawes to leave Boston and spread the alarm that the British garrison in Boston was setting out to raid the town of Concord and arrest rebel leaders John Hancock and Samuel Adams."
Author(s): No creator set

21L.705 Major Authors: After the Masterpiece: Novels by Melville, Twain, Faulkner, and Morrison (MIT
This seminar provides intensive study of exciting texts by four influential American authors. In studying paired works, we can enrich our sense of each author's distinctive methods, get a deeper sense of the development of their careers, and shake up our preconceptions about what makes an author or a work "great." Students will get an opportunity to research an author in depth, as well as making broader comparisons across the syllabus.
Author(s): Kelley, Wyn

2.3 Community care, fear and the 'high-risk' service user

So far in this course you have seen how the concept of risk has come to suggest danger. This section explores in greater depth how the changes that have led to this situation have impacted on mental health policies and practice. The next activity involves reading an article to help you consider risk in the context of mental health services.

Author(s): The Open University

Optional reading


Debates about the relationship between science, citizenship and democracy continue to influence public policies related to science communication and public engagement in science. In part, these debates involve discussions about scientific and other ways of knowing. For an introduction to these issues, see Irwin (1999).

This premise, of exchanging information and learning from others, is also relevant to your communication with other expert scientists. As a research student you will lear


Author(s): The Open University

Keep on learning

Study another free course
There are more than 800 courses on OpenLearn for you to choose from on a range of subjects. 
Find out more
Author(s): The Open University

West Malling Abbey DP138693

West Malling, Kent. General view of the Church of The Resurrection, West Malling Abbey.
© Historic England


Author(s): No creator set