"Petroleum Technology Presentation"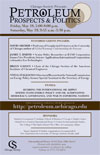 A talk by Brian C. Gahan, Energy Consultant; Chair of the Chicago Section of the American Institute of Chemical Engineers; former Senior Scientist and Manager of E&P Technology Development at the Gas Technology Institute. Session 4 of the conference "Petroleum: Prospects and Politics." Sponsored by the Chicago Society. Co-sponsored by the Student Government of the Universi
Author(s): The Center for International Studies at the Univer

2.1 Introduction


In this section, we explore how experiences of being an older person in the nineteenth century were constituted through the operation of the 1834 New Poor Law Act and the processes of industrial change that ran parallel to it. We examine the way this constructed the lives of older people as 'other' to the emergent 'normal' (adult, relatively youthful, male paid worker) and trace its legacy to reveal points of continuity and change.


Author(s): The Open University

"Session 1 (Politics) - History Textbooks and the Profession: Comparing National Controversies in a

A symposium panel featuring the following papers: "Historical Memory, International Conflict and Japanese Textbook Controversies in Three Epochs" — Yoshiko Nozaki (SUNY Buffalo) and Mark Selden (SUNY Binghamton); "The Politics of History Textbooks in India" — Neeladri Bhattacharya, (Jawaharlal Nehru University, New Delhi); "Weapons of
Author(s): The Center for International Studies at the Univer

3.7 Massacres of Chios – a critical stir


Chauvin viewed both Delacroix's subject and his technique as barbaric: the painting dealt with no eternal truths and delivered no inspiring lesson. Other complaints were voiced about the rough brushwork that called attention to itself in such a non-academic manner. The 'cadaverous tint' of the bodies also drew criticism. Gros, whose own compositional experiments had inspired Delacroix, allegedly called the picture the 'massacre of painting' (quoted in Johnson, 1981, p.87), while Ste


Author(s): The Open University

3.8.2 Analysing and answering essay-based exam questions

For the following activity, you can use questions from a specimen paper, past papers or even questions you have devised for yourself.
Activity 9
Exam questions for essay-based courses often contain 'process words'. T
Author(s): The Open University

Frink - Boar DP178248

Boar (1970) by Elisabeth Frink, The Water Gardens, Harlow, Essex. General view from the south east. Photographed by Steven Baker 2015.
© Historic England


Author(s): No creator set

Houthis in Yemen, "will fail, we will make sure of this"- Saudi ambassador to U.S.
Saudi Arabia says it will make sure Houthis fail in Yemen as Iran says it will use all its influence to broker a peace deal and end the Saudi airstrikes. Deborah Lutterbeck reports. Subscribe: http://smarturl.it/reuterssubscribe More updates and breaking news: http://smarturl.it/BreakingNews Reuters tells the world's stories like no one else. As the largest international multimedia news provider, Reuters provides coverage around the globe and across topics including business, financial, nation
Author(s): No creator set

3.6 Assessing James's argument

James argues as follows:
A It is impossible to experience an emotion without feeling bodily changes.

B Therefore, an emotion is a set of bodily feelings.
Activity 6
<
Author(s): The Open University


1 Crossing boundaries: a case study


A number of situations put a strain on the idea that caring is just an extension of 'being ordinary'. These include times when people are giving intimate care. Since the normal rules do not apply in these circumstances, we have to develop a set of special rules to guide practice, thinking very carefully about the core question: 'How can boundaries be respected in situations where intimate care is being given?''

This question will be explored through a fictional case study set in a res


Author(s): The Open University


And Then Came Tango at The Growing Stage
The Growing Stage, The Children's Theatre of New Jersey, will present the world premiere of And Then Came Tango on Friday, March 6th. Inspired by a true story, the play revolves around the case of two male penguins at the Central Park Zoo who established a bond to hatch an orphaned egg. Written by Emily Freeman, and featuring choreography by Jillian Petrie and original music by Paul Marbach, "And Then Came Tango" is a celebration of tolerance and the eternal instinct that guides one generation
Author(s): No creator set


2.1 Introduction


Every receptor has to be able to recognize its particular ligand in a specific manner, and become activated by it in such a way that it transmits the signal to the cell. We shall deal with receptor specificity and activation mechanisms. Then we shall see how the same principles of specificity and activation also apply to intracellular receptors.


Author(s): The Open University


Deaf Planet
Deaf Planet's web media site is in both American Sign Language (ASL) and French Sign Language (LSQ). Their site content uses Bloom's taxonomy in its video clips, games, and activities, and their show Earth Buzz has a new episode each week in both ASL and LSQ. They also have a finger spelling feature that can be either turned on or off while playing games and activities. Individuals can either have fun working independently or along side with parents and educators.
Author(s): No creator set


2.4.2 Lipid-linked proteins and lipoproteins


Lipid-linked proteins are proteins that have been covalently modified by addition of one or more lipid groups. Note that the term lipoprotein, though sometimes used to describe lipid-linked proteins, is strictly applicable only to those proteins that associate with lipids non-covalently. These proteins have quite distinct functions. Lipoproteins serve to transport triacylglycerols and cholesterol in the blood plasma. We will not be discussing them any further at this point.

<
Author(s): The Open University


Forging a New Frontier in Oxford Medicine
The historian Conrad Keating continues his history of Oxford's groundbreaking contribution to health in the tropics by asking David Warrell what motivated him to work in Africa... The modern history of Oxford's medical contribution to the great neglected diseases of mankind begins with David Warrell's appointment as Director of the Mahidol-Oxford-Wellcome Unit in Bangkok, Thailand in May, 1979. Tropical research had fascinated Warrell since his time working in Nigeria and Addis Ababa in 1968.
Author(s): No creator set


Keep on learning

Study another free course
There are more than 800 courses on OpenLearn for you to choose from on a range of subjects. 
Find out more
Author(s): The Open University

2 What is brain-based learning and teaching?


Neuroscientists now have more sophisticated ways of examining living brains than was ever possible before. It is now possible to obtain images of the brain that show activity as it occurs. The importance of the first years of life has always been recognised by early years practitioners but the new information about the brain deepens our understanding about why this might be.

Perry and Pollard (1997) reported on the effects of sensory stimulation, or the lack of it, on early brain develo


Author(s): The Open University

Marshall Fisher on 'The New Science of Retailing'
In today's economy, retailers are hard pressed to increase revenues. Among the biggest challenges they face is matching supply with demand. In The New Science of Retailing: How Analytics Are Transforming the Supply Chain and Improving Performance, Wharton professor Marshall Fisher and co-author Ananth Raman argue that retailers have the data they need to manage supply chains more efficiently and increase sales and profits. Knowledge@Wharton spoke with Fisher about what types of data are
Author(s): Knowledge@Wharton

R&D | Tor Erik Hermansen | Salon 1 (5 of 6)
Tor Erik Hermansen, Music Producer and Songwriter, Co-Founder of Stargate, discusses the music world and the discovery and curation process he has used to write such hit songs as Beyoncé's Irreplaceable and Katy Perry's Firework. MoMA R&D Salon 1: A Curator's Tale http://momarnd.moma.org/ October 15, 2012 All videos © 2014 The Museum of Modern Art, New York
Author(s): No creator set

2.3 Ways of understanding 'difference'


The debate about the nature and causes of ethnic, gender and other 'differences' is complex and contentious. Here, for the sake of simplicity, two very broad and contrasting perspectives on the issue are presented. Understanding different theoretical perspectives on an issue is important, since these perspectives impact on and influence policy and practice. In this instance, the way in which 'difference' is understood has important consequences for how difference is responded to, whet


Author(s): The Open University