Introduction

This course helps you to explore the extent to which death and dying in western societies are medical events and what aspects of death and dying might be neglected as a consequence. The course covers the way that such things as medicine provide the context of the experiences associated with the end of life.
This OpenLearn course is an adapted extract from the Open University course : Author(s): The Open University

"Freefall: America, Free Markets, and the Sinking of the World Economy"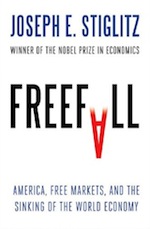 A talk by Columbia University professor Joseph Stiglitz. The current global financial crisis carries a "made in America" label. In "Freefall", Nobel laureate Joseph Stiglitz explains how America exported bad economics, bad policies, and bad behavior to the rest of the world, only to cobble together a haphazard and ineffective response when
Author(s): The Center for International Studies at the Univer

9.3 Mental health practice: Bonnyrigg


Like many subjects, mental health is complex. This is partly because the language used in discussions about mental health is diverse, can mean different things to different people, and can sometimes be misleading. For example, the term 'mental health' is usually used in discussions about just the opposite: 'mental illness!' There are, however, good reasons for the confusion surrounding its language. One reason is that decisions about what constitutes 'mental health', 'mental ill


Author(s): The Open University

De Gaulle's Republic 1958 - 1969
This is a module framework. It can be viewed online or downloaded as a zip file. As taught in Spring Semester 2010, This module examines the founding first decade of the Fifth Republic by focusing principally, though not exclusively, on the personality and political ideas of Charles de Gaulle. It begins by examining his emergence as the providential leader of the Resistance, to the frustrations of the Liberation and his thwarted plans for the constitutional renaissance of France, through the
Author(s): Smith Paul Dr

"Dignity and Defiance, Stories from Bolivia's Challenge to Globalization"

A talk by authors Jim Shultz & Melissa Crane Draper. (Moderated by Jerome McDonnell, host of Chicago Public Radio's Worldview.) Author Jim Shultz is founder and Executive Director of the San Francisco based Democracy Center and has lived and worked in Bolivia for much of the past decade, chronicling grassroots movements to control exploitation o
Author(s): The Center for International Studies at the Univer

"Superclass: The Global Power Elite and the World They are Making"

"Superclass" provides the first in-depth examination of the connections between the global communities of leaders who are at the helm of every major enterprise on the planet and control its greatest wealth. It is an unprecedented examination of the trends within the superclass, which are likely to alter our politics, our institutions, and the shape of the world in which we live. Rothkopf is also the
Author(s): The Center for International Studies at the Univer

2.3 Multiplying powers

Powers of ten can be used to investigate what happens when two powers of the same number are multiplied together. For example, consider multiplying 10 by 100:
A billion is a thousand million. In terms of powers this is: