OrganWise Guys Shorts: Are You OrganWise? (calcium)
Come learn about health and nutrition with the OrganWise Guys! In this short: in a game show-style clip, kids learn about the foods that give their bones the calcium they need to stay strong and healthy. (1min)
Author(s): No creator set

Founders Day lecture 2011: Great ideas of biology
In this Founders Day lecture Sir Paul Nurse, president of the Royal Society, discusses the great ideas of biology.

Author(s): No creator set

Kew in the digital age
Professor Angela McFarlane explores how The Royal Botanic Gardens, Kew, is using digital media to engage new, global audiences in its science and conservation work.

Author(s): No creator set

Review response to water quality problems
This learning object contains resources and activities that focus on reviewing a response to a water quality problem. The key areas are: reviewing the incident and completing the documentation requirements. The task is to investigate and evaluate the response and record your findings.
Author(s): No creator set

Beginner - Leave the washing machine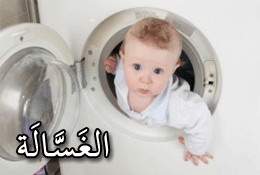 When babies become toddlers, they generally roam the house looking for anything that they could get their hands on. It can get annoying when they start playing with the washing machine especially when it's in a middle of a cycle.


Author(s): No creator set

Stone Soup: Building and Maintaining Effective Collaborations
Effective collaborations across California's higher education segments can accomplish much more than can be done by any single segment alone. In this session we will highlight two examples of current collaborations that have proven to be very effective. One is the CSU Systemwide Digital Library Content, an e-resource consortium created to influence the development of the nascent educational eResource industry and to capture the benefits of our combined (CSU/CCC/UC) buying power. The second is
Author(s): No creator set

Linked Stories in InDesign CS5.5
In this episode, you will learn how to link stories within the same document with InDesign CS5.5. This feature gives you great flexibility if you have duplicated content throughout an InDesign document that might need to be updated. Now, instead of having to update every instance, you can simply update the source text, and easily update all linked text frames!
Author(s): No creator set

2.1 Industry and markets: what do we mean?

Case study: Digital outsells film
Sales of digital cameras have overtaken traditional 35 mm cameras for the first time. According to monthly figures collated by national electric and photo retailer Dixons, digital camera sales out
Author(s): The Open University

Introduction

This course looks at the way people identify and become attached to places, buildings and objects. It also analyses how this attachment can impact on personal well-being. Understanding this is important in assessing the care people of all ages need and how this care should be delivered.
This OpenLearn course provides a sample of Level 1 study in Author(s): The Open University

Babbage: Apple and the reason for sex
Apple clashes with the FBI over accessing iPhone data and scientists finally prove why we keep having sex

Author(s): The Economist

4.13.2 Example: an 'intelligent' email system


Let us work through an email example of making a system 'smarter'. We are all familiar with the standardised fields in an email system: From, To, Subject. The computer needs the To/From information, expressed in a standard format, to direct the message to its addressees and allow them to reply. It has no concept of who the sender and recipient are, or what the Subject field means. We can imagine simple knowledge-level email categories which add status information to t


Author(s): The Open University

Clinical Trial Protocol Development
Dr Phaik Yeong Cheah, Head of Clinical Trials at the Mahidol-Oxford Research Unit in Bangkok, Thailand discusses clinical trial protocol development. This lecture is an introduction to the topic and gives an overview from initial concept through to GCP requirements, ethical considerations, study drugs and procedures and safety reporting.
Author(s): No creator set

1.3.8 Separation from the physical body

Very common is the experience of floating, sometimes on the ceiling, looking down on the body – a sense that the essential part of the person has separated from the physical body. In Michael Sabom's survey of near-death experiences among non-surgical cases everyone had this sensation, but other studies indicate it is not universal. One woman recorded these feelings in a poem.
Hovering beneath the ceiling, I looked down
Upon a body,
Author(s): The Open University

5.1.2 When are bar charts used?


A bar chart is a good method of representation if you want to illustrate a set of data in a way that is as easy to understand as it is simple to read. In general, a bar chart should be used for data that can be counted so, for example, we could use a bar chart to show the number of families with 0, 1, 2 or more children. A bar chart could also be used to show how many people in one area use each of the different modes of transport to get to work.

Bar charts are very useful for comparing


Author(s): The Open University

6.2 Introduction to the law in Scotland


This unit will introduce you to law making in Scotland. It is taken from W150 An introduction to law in contemporary Scotland, a new 15-point course from The Open University's Centre for Law. The unit begins by developing your general and legal study skills such as reading unfamiliar information, note taking and critical thinking. It then asks you to think about what law is and introduces you to the legal history of Scotland. The unit then moves to look at the Scottish Parliament by gi


Author(s): The Open University

1.2.1 Death and Tolstoy


Inevitably, the way in which people deal with death, whether by denial or by the construction of a complex system of beliefs and myths, leads to questions about the meaning of life. For Julia Neuberger this is the lesson of death. 'It is nothing to fear of itself, but it concentrates the mind powerfully in examining what it is we mean by life' (Neuberger and White, 1991, p. 13).

Click to view 'Author(s):

The Open University

5.2 Developing a strategy

In developing a strategy for improving your IT skills you are aiming to:
identify the opportunities you can use to develop and practise your IT skills;

establish the outcomes you hope to achieve and targets for meeting them;

identify the resources you might use for developing your skills, including people who might be able to help you as well as books, study guides, tutorials, specialist training, databases, libraries

Author(s): The Open University

1 Approaching philosophy

The 1960s show Beyond the Fringe included a sketch satirizing philosophy. In it, Jonathan Miller and Alan Bennett play two Oxbridge philosophers discussing the role of philosophy in everyday life. It concludes like this:
Jon: … the burden is fair and square on your shoulders to explain to me the exact relevance philosophy does have to everyday life.

Alan: Yes, I can do this quite easily. This mo
Author(s): The Open University

Enhancing oral skills
This is a module framework. It can be viewed online or downloaded as a zip file. As taught in Autumn Semester 2010. Enhancing Oral Skills (EOS) is a project aimed to provide French beginners with listening activities available on the University of Nottingham (Ningbo campus) platform WebCT (Virtual Self-Access Centre) for their self-study at the very first stage of their learning. The activities have been created taking into account the Common European Framework of Reference for Languages (CEF
Author(s): Comerio Giovanna;Delcloque Philippe Dr

Learning outcomes

After studying this course, you should be able to:
examine practices in relation to working with other professionals in order to make the underpinning knowledge, values and beliefs explicit

use a variety of 'tools' to examine the knowledge, values and beliefs underpinning a practice

identify contradictions between an underpinning knowledge, values and beliefs and a practice

identify any requirements for development of a practice a

Author(s): The Open University