1.1 Early observations


Some of the earliest observations of macromolecules within living cells were of nucleic acids in the form of chromosomes. These long dark-staining objects, which became visible in the nucleus of cells at specific stages of cell division, were large enough to be detected using primitive light microscopes. Giant polytene chromosomes, found in certain cells such as the salivary gland cells of Drosophila (see Figure 1a), contain many thousands of copies of each chromosomal DNA align


Author(s): The Open University

King Lear to In the loop : fiction and British politics
On 11 December 2009, Nottingham University's Centre for British Politics held a conference at the British Academy that drew together politicians, writers and academics to explore the interaction of British politics and fiction. In addition to the conference several video interviews were conducted with some of the speakers on the day. In this interview taken at the Fiction and British Politics Conference in London, academic and director of the Centre for British Politics, Professor Steven Fiel
Author(s): Fielding S. J. Professor

"Securing the International Oil Supply"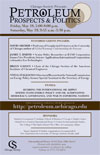 A panel featuring David Goldwyn, President of Goldwyn International Strategies LLC; Senior Fellow in the Energy Program at the Center for Strategic and International Studies; former Assistant Secretary of Energy for International Affairs; Scott Nauman, Manager of Economics and Energy in Corporate Planning for ExxonMobil Corporation; and Michael Klare, Five College Professor
Author(s): The Center for International Studies at the Univer

3.2 Tides


Tides are caused by the gravitational pull of the Moon and to a lesser extent the Sun. Although tides affect all fluid bodies on Earth in some measure, including some parts of the solid Earth itself, their main effect is on the seas and oceans. Ultimately the kinetic energy of tides is converted into


Author(s): The Open University

Precipitation and Dissolution
OpenStax Chemistry


Some Rights Reserved
Author(s): No creator set

Resource #16606
UNSPECIFIED - UNSPECIFIED Keywords:UNSPECIFIED
Author(s): No creator set

1.3 Using ratios

Time conversions are also ratios. The ratio of time measured in minutes to time measured in seconds is one to sixty (1:60), as there are sixty seconds in a minute.
Example 2
Adam's grandfather ran a mile in

Author(s): The Open University

5.3 Global warming


Media attention has been such that it would be hard to have missed the fact that global warming is considered to be a 'bad thing'. Why should this be so? What is so wrong with being a bit warmer? Anyway, is global warming really occurring and, if it is, what are the causal factors responsible for it?

Let us deal with this last question first. As we sit on a beach in summer, or in a sunny window seat in winter, we are aware of the Earth being warmed by the Sun. In fact the Earth is w


Author(s): The Open University

1.1 Early influences


In the early summer of 1771, the clergyman and writer John Newton (1725–1807) was visited at Olney by two of his admirers, William and Hannah Wilberforce, a wealthy childless couple, and their 11-year-old nephew and heir, also named William. Newton made a profound impression on the boy. In 1785 it was to Newton that the younger William Wilberforce (1759–1833), now Member of Parliament for Yorkshire and a close friend of Prime Minister William Pitt (the Younger), turned for counsel in the


Author(s): The Open University

Inverse Laplace Transforms Example 2b
John Taylor
Demonstrates the use of a table to find the inverse Laplace transform of a rational expression involving a quadratic.

Some Rights Res
Author(s): No creator set

Pye - Zemran DP183016

South Bank, Lambeth, Greater London. William Pye sculptue "Zemran", 1972. View from north west. Photographed by Chris Redgrave in 2015.
© Historic England


Author(s): No creator set

Alles kan schoner

In dit tweeluik gaat Dirk Draulans op zoek naar de Vlaamse cleantech-innovatie: ecologische spitstechnologie ten dienste van duurzaamheid.

Vlaamse cleantech-initiatieven concentreren zich in vier domeinen: materialen, water, mobiliteit en …


Author(s): No creator set

Keep on learning

Study another free course
There are more than 800 courses on OpenLearn for you to choo
Author(s): The Open University

A Question of Law and Wealth [Audio]
Speaker(s): Professor Jonathan Fisher, Dr Eva Micheler, Professor Niamh Moloney, Dr Joseph Spooner | The law plays a crucial part in the creation, proliferation, and distribution of wealth. Through private law institutions such as contract and property, but also through the criminal law (consider the numerous offences pertaining to wealth, such theft, fraud, money laundering) the law creates and regulates the categories making possible the exclusive relations between us and the world. In doing s
Author(s): No creator set

J.S. Bach: Life and Works - 1/2
 Stunningly filmed in locations throughout central Germany, "J.S. Bach: Life and Works" sets a new standard for artful filming of music performance. A rare DVD featuring excellent performances of a variety of Bach works in the context of locations the music was intended for: churches and castles. Includes the first filmed performance on the recently reconstructed Wender organ in Arnstadt where Bach worked early in his career.
Author(s): No creator set

Australian open 2016 its coming

Video link (see supported sites below). Please use the original link, not the shortcut, e.g. www.youtube.com/watch?v=abcde
Syrian refugees cross into Iraqi Kurdistan, hope for better future
Subscribe: http://smarturl.it/reuterssubscribe Nearly a hundred refugees fleeing the Syrian conflict cross into Iraq at the Peshkhabour border point by boat every day, with some hoping "the future of my family is going to be better." Gavino Garay reports. More from Syria: http://smarturl.it/SyriaAttack Subscribe: http://smarturl.it/reuterssubscribe Reuters tells the world's stories like no one else. As the largest international multimedia news provider, Reuters provides coverage around the gl
Author(s): No creator set

References


Hagger, H. and McIntyre, D. (1994) Learning Through Analysing Practice, Reading 8, Mentoring in Secondary Schools: A professional development programme, Milton Keynes, The Open University.

Maynard, T. and Furlong, J. (1993) 'Learning to teach and models of mentoring', in McIntyre, D., Hagger, H. and Wilkin, M. (eds) Mentoring: perspectives on school-based teacher education, London, Kogan Page


Author(s): The Open University