Join your guide Cory Fowler as he talks to the product teams in Redmond as well as the web community.
This week Cory is joined by Jaime Espinosa, a PM from the Azure Websites team, to talk about some improvements and road map items around the Testing in Production feature. Testing in Production is a powerful feature which enables you to route production site traffic to another deployment of
Author(s): Cory Fowler

Organic Chemistry 14
In this video, the instructor, 'Chemguy', discusses addition reactions in organic chemistry. This video is suitable for high school chemistry students.
Author(s): No creator set

Bereidingstechnieken

Deze presentatie geeft een overzicht van de meest courante bereidingswijzen. De technieken die aan bod komen:
koken,
pocheren,
blancheren,
stomen,
stoven,
bakken,
braden,
braiseren,
roosteren,
gratineren,
farceren,
&

Author(s): No creator set

Morocco High School Commencement Invitation, 1946
Morocco, Indiana was laid out in 1851 before Newton County was formed. Seen here is a Morocco High School commencement program for 1946. The high school was replaced by the consolidated North Newton Jr.-Sr. High School in 1967.,Newton County Journey
Author(s): Creator not set

"U.S.-Cuban Academic Relations Part I: The Politics of U.S.-Cuban Exchanges"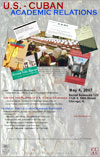 Wayne Smith, Center for International Policy and Louis Pérez, University of North Carolina-Chapel Hill.
U.S. and Cuban scholars involved in academic, scientific, and cultural research face significant difficulties in maintaining open and thorough dialogue with each other due to restrictions governing travel between the two countries. Such
Author(s): The Center for International Studies at the Univer

Niki Valentine - On becoming a novelist
Niki Valentine from the University's School of Education describes her journey to becoming a successful novelist and gives her ten top tips for budding writers for November's National Write a Novel Month (NaNoWriMo).
Author(s): No creator set