"United States Government Perspective Global Energy Security"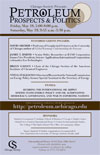 Introduction by Robert Zimmer, President, University of Chicago; Keynote Address by The Honorable Alan S. Hegburg, U.S. Deputy Assistant Secretary of Energy for International Energy Policy. Session 1 of the conference "Petroleum: Prospects and Politics." Sponsored by the Chicago Society. Co-sponsored by the Student Government of the University of Chicago, The Graduate Scho
Author(s): The Center for International Studies at the Univer

Écoulement uniforme (2) (Vidéo)

Donc, nous voulons établir les équations de l'écoulement uniforme. Et nous nous posons la question de l'équilibre des forces qui s'exercent sur ce volume de contrôle. Normalement, si vous avez été subtil, vous aurez trouvé que les forces, c'était :
le poids propre, bien entendu
les forces de frottement contre les parois ...

Author(s): No creator set

18.657 Mathematics of Machine Learning (MIT)
Broadly speaking, Machine Learning refers to the automated identification of patterns in data. As such it has been a fertile ground for new statistical and algorithmic developments. The purpose of this course is to provide a mathematically rigorous introduction to these developments with emphasis on methods and their analysis.You can read more about Prof. Rigollet's work and courses on his website.
Author(s): Rigollet, Philippe

Chairman v CEO
Chairman of Italy's Banca Monte Dei Paschi Di Siena, Alesandro Profumo, talks to London Business School about his role, responsibilities and interactions with the organisation's CEO.
Author(s): No creator set

IRCTC sms number

Video link (see supported sites below). Please use the original link, not the shortcut, e.g. www.youtube.com/watch?v=abcde