"Japanese Education and Society in Crisis"

A talk by Yoshifumi Tawara, Secretary General of the Children and Textbooks Japan Network 21. Part of the Japan at Chicago Lecture Series: Celebrating Protest. Sponsored by the Japan Committee of the Center for East Asian Studies, the Human Rights Program, and the Center for International Studies.
Author(s): The Center for International Studies at the Univer

Learning About the Number Three
Sesame Street Muppets sing about the number 3 by counting to 3 and describing sets of 3. Sung by Elmo, Herry Monster, and Prairie Dawn. (01:41)

Author(s): No creator set

Children's perspectives on play
In this free course, Children's perspectives on play, you are asked to put yourself in the place of young children and to think about their view of play and their reasons for playing. When children have personal freedom to choose and make decisions about what and who they want to play with, as well as where they want to play, they are highly self-motivated and active in their engagements with everything around them. In this course you will think about how you listen to children's perspectives,
Author(s): Creator not set

Una lengua en movimiento
This free course will develop your knowledge and understanding of the societies and cultures of Spain and Latin America and extend the practical skills of listening, speaking, reading and writing. The course focuses on the many ways in which living languages - notably Spanish - adapt to the contexts in which they are used. First published on Thu, 26 May 2016 as Author(s): Creator not set

"The U.S. and R.O.C.: A Fresh Start" (video)

Keynote speech by Deputy Representative Ta-tung Jacob Chang, Taipei Economic and Cultural Representative Office in the United States. Part of a free conference sponsored by the Center for East Asian Studies, the Taipei Economic and Cultural Office in Chicago, and International House.
Author(s): The Center for International Studies at the Univer

Types of Reactions & Solution Stoichiometry Part II

Video link (see supported sites below). Please use the original link, not the shortcut, e.g. www.youtube.com/watch?v=abcde
4.430 Daylighting (MIT)
This course explores natural and electric lighting that integrates occupant comfort, energy efficiency and daylight availability in an architectural context. Students are asked to evaluate daylighting in real space and simulations, and also high dynamic range photography and physical model building.
Author(s): Reinhart, Christoph

Keep on learning

Study another free course
There are more than 800 courses on OpenLearn for you to choose from on a range of subjects. 
Find out more
Author(s): The Open University

In Greece, Reliance on Public Funds Is the Central Problem
Greece is a hot topic at the moment, mostly with the continued negotiations over bailouts from the European Union and, through institutions like the IMF, the world at large. Much of the discussion paints the image that Greece is only a debt-restructuring away from a stable economic situation. However, without understanding how Greece got into this problem in the first place and identifying the root cause of an over-indebted society, any plan or solution has a high probability of failure. To crac
Author(s): No creator set

6.830 Database Systems (MIT)
This course relies on primary readings from the database community to introduce graduate students to the foundations of database systems, focusing on basics such as the relational algebra and data model, schema normalization, query optimization, and transactions. It is designed for students who have taken 6.033 (or equivalent); no prior database experience is assumed, though students who have taken an undergraduate course in databases are encouraged to attend.
Author(s): Madden, Samuel,Morris, Robert,Stonebraker, Michael

Making News For The New World [Audio]
Speaker(s): Lionel Barber | The future of media is now. News organizations today face new and numerous opportunities and challenges, from the rise of social platforms, to adapting to mobile publishing methods and rhythms, to deep challenges to traditional business models. In his lecture, Lionel Barber will discuss the FT's response to disruption -- identifying the role of media in a changing, global, technology-driven world. More broadly, Barber will address the role of news and information in
Author(s): No creator set

2.3 Realist and conventionalist approaches


In most modern, urban, industrial societies, still images surround people for much of their daily lives: at home, at work, during leisure, while travelling. Does the evidence they offer differ fundamentally from that which comes from facts and figures printed on a page? It may be presented differently but we can derive socially relevant information as readily from a photograph as we can from written or numerical data. In some ways, it can be argued that the information that we can acqu


Author(s): The Open University

PODCAST: Economically Powerful


Saudi Arabian women aren't allowed to drive, and aren't allowed to be in a room alone with a man who isn't their relative. Yet they own nearly 70 percent of bank accounts and 20 percent of private companies in the Kingdom. In this podcast, originally recorded for I.M.O.W.'s Women, Power and Politics exhibition, businesswoman and women's rights activist Rasha Hifzi speaks about this contradiction and Saudi women


Author(s): No creator set

2.3 Global power demand

In Section 2.2 we calculated a value of 14.3 TW for the average global requirement for primary power in 2002.

Author(s): The Open University

Environmental Statistics
This lecture is given to provide common statistical skills to analyze and interpret data sets obtained in environmental science and management. Main topics are probability, hypothesis testing, multivariate analysis, time series analysis, and risk assessment. Students are required to work on exercises to acquire substantial understanding both in theory and application.
Author(s): TOKYO TECH OCW

Moederdag : Storting

Een storting met versje voor moeder bruikbaar binnen het thema moederdag. In de klas maakte ik een memobord voor de mama's en deze rekening steken de leerlingen ertussen.

Bron tekst: eigen werk.


Author(s): No creator set

"United States Energy Policy and Oil Alternatives"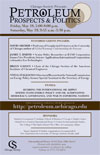 A panel featuring James Bartis, Senior Policy Researcher at RAND Corporation; former Vice President, Science Applications International Corporation; Cofounder, Eos Technologies; Roger H. Bezdek, President of Management Information Services, Inc.; former Special Advisor on Energy in the Office of the Secretary of the Treasury; and Vito A. Stagliano, Director of Research at t
Author(s): The Center for International Studies at the Univer