Israeli ambassador to U.S. says Iron Dome is preventing escalation
Ron Dermer, the Israeli ambassador to the U.S., says if it wasn't for the Iron Dome missile defense system, there would be a need for more forceful action against Hamas. Rough Cut (no reporter narration). Subscribe: http://smarturl.it/reuterssubscribe More updates and breaking news: http://smarturl.it/BreakingNews Reuters tells the world's stories like no one else. As the largest international multimedia news provider, Reuters provides coverage around the globe and across topics including busi
Author(s): No creator set

"U.S.-Cuban Academic Relations Part I: The Politics of U.S.-Cuban Exchanges"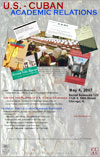 Wayne Smith, Center for International Policy and Louis Pérez, University of North Carolina-Chapel Hill.
U.S. and Cuban scholars involved in academic, scientific, and cultural research face significant difficulties in maintaining open and thorough dialogue with each other due to restrictions governing travel between the two countries. Such
Author(s): The Center for International Studies at the Univer

MSU 2012 Undergraduate Art Exhibition
The Department of Art, Art History and Design presents the 2012 Undergraduate Exhibition featuring works from emerging student artists.
Author(s): No creator set

Chronique pygmée aka 1988, Gouga: Le bébé malade et le chevrotain aquatique (Vidéo)


A Gouga, dans une petite bananeraie pygmée en République centrafricaine, les activités quotidiennes et les chants qui accompagnent les sons émis par une harpe sont interrompus par les pleurs d'une petite fille saisie d'une crise de convulsions hyperthermiques. La maladie de l'enfant est attribuée à une rupture d'interdit alimentaire, kila, ...


Author(s): No creator set