5.1 Standing waves


You learned earlier that when a musician plays a note on an instrument, they supply it with energy that causes the primary vibrator to oscillate at certain specific frequencies. In Section 5 we are going to look at what determines these specific frequencies for some of the primary vibrators found in different instruments.

In Unit TA212_1 Sound for music technology: an introduction, we talk about travelling waves: that is, waves that propagate outwards away from their sourc


Author(s): The Open University

"Petroleum Technology Presentation"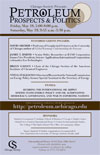 A talk by Brian C. Gahan, Energy Consultant; Chair of the Chicago Section of the American Institute of Chemical Engineers; former Senior Scientist and Manager of E&P Technology Development at the Gas Technology Institute. Session 4 of the conference "Petroleum: Prospects and Politics." Sponsored by the Chicago Society. Co-sponsored by the Student Government of the Universi
Author(s): The Center for International Studies at the Univer

7.342 G-Protein Coupled Receptors: Vision and Disease (MIT)
How do we communicate with the outside world? How are our senses of vision, smell, taste and pain controlled at the cellular and molecular levels? What causes medical conditions like allergies, hypertension, depression, obesity and various central nervous system disorders? G-protein coupled receptors (GPCRs) provide a major part of the answer to all of these questions. GPCRs constitute the largest family of cell-surface receptors and in humans are encoded by more than 1,000 genes. GPCRs convert
Author(s): Kota, Parvathi

6.972 Algebraic Techniques and Semidefinite Optimization (MIT)
This research-oriented course will focus on algebraic and computational techniques for optimization problems involving polynomial equations and inequalities with particular emphasis on the connections with semidefinite optimization. The course will develop in a parallel fashion several algebraic and numerical approaches to polynomial systems, with a view towards methods that simultaneously incorporate both elements. We will study both the complex and real cases, developing techniques of general
Author(s): Parrilo, Pablo

Robin Hood and Sherwood Forest
This online exhibition highlights resources for the study of Robin Hood in the collections held by Manuscripts and Special Collections at the University of Nottingham. It includes examples from printed versions of the Robin Hood story in collections of traditional ballad literature, in popular chap books and in stories for children. It also features documents which can be used for the study of the historical Sherwood Forest and its laws.
Author(s): University of Nottingham. Dept. of Manuscripts and